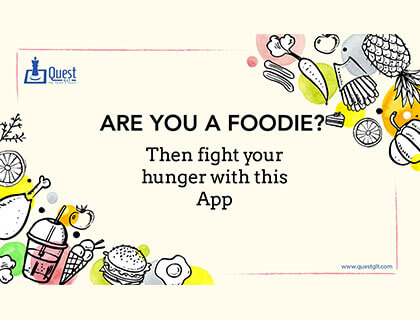 Food has become a craze among youngsters. They are ready to experiment something new every day. Medias play a very important role in sales and marketing. When a person posts a pic of a dish at a café or an advertisement featuring a mouthwatering dish may stimulate the viewers to try for it. So restaurants, cafes, pastry shops, etc. make sure that the images of appetizers attract the public. Various apps are developed to make the job easier. They provide all the information the user demands.So boost you brand with an app.
Quest GLT has developed a mobile application for Fired Up Grill, a family restaurant which offers excellent food and organizes party functions. They wanted to grow their business and reach out to the people and hence came up with this idea. They wanted a platform for the customers to check out their menu cards with adorable illustrations of their dishes. They wanted to make sure their customers reached them with ease by providing a location map. Also birthday parties, wedding parties could be pre-booked online and planned accordingly.
The app provides weekly updates about the events and parties happening and reviews to learn better about them. One could check out the menus for their favorite dishes, reserve tables of their choice and even reach the restaurant with the location map. These new features has attracted the people, a customized app was what the people needed. Fired Up Grill was really glad with the customer engagement. Their visitors rolled up by 50% and hence the revenues by 30%. Its Facebook followers too increased by 60%. The entire team has pitched forward by the adoption of this system. Thus impressive online presence can attract large number of people in a short span of time.