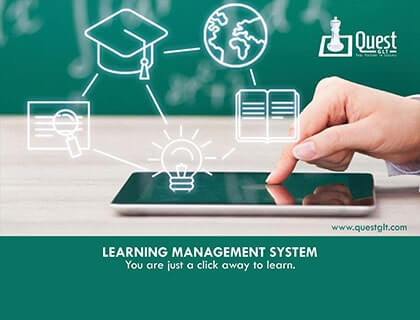 Education is an asset to an individual in his personal and professional life. It gives him confidence to fight his barriers, struggle and then finally free him from his difficulties. It is a must for every individual and theyhave the right for it. Nowadays learning is not restricted to texts, notes and classrooms alone but also to ebooks, apps, online lectures and the list continues. Technology is on the rise and the people too are updating every day to keep up with the pace. Learning through apps has become customary for students. So, educational institutions design their apps to make it convenient for their users.
Quest GLT has developed educational apps for their clients to increase their viability to the customers. Catalyser eLearning Android app allows the students to learn from anywhere and at anytime through smartphones or tablets. Missing classes and then to copy the lecture notes before the next class is common among students. This app solves the problem. The app provides a customized experience to its user. Each user logins to his account through a unique login id to access the study materials. The course materials for the respective course lectures are attached for convenience. Learners can mark their favorite ones and even check the history to view the seen videos. Push notification is enabled to notify the users whenever a new video is posted. With the development of the app, the firm has increased its users to 50,000. It is now available to distant users in remote cities and hence an increase in revenue by 80%.
Quest GLT has also developed an app for Catalyser Institute, a coaching institute which provides coaching for competitive exams like IIT-JEE. Students often have doubts regarding their subjects while preparing. This app provides the solution. They don't have to head towards their school or teachers, just a query in their app would fetch them their answer. They don't have to feel embarrassed for their doubt as their identities won't be revealed. Trainers and Trainees can post anonymously and admins approve the posts to avoid irrelevant posts. Once your query is answered, a message will notify you. All the questions and answers are sorted accordingly and can be viewed by all the users. As a result, admissions increased by 20% and hence the efficiency of the students.