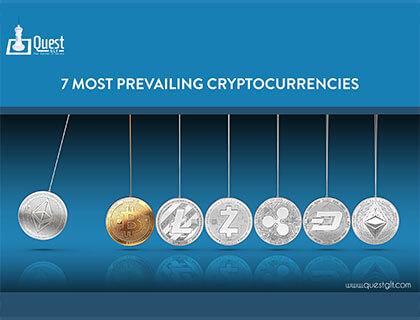 Through meteoric rise and fall, cryptocurrencies are ushering waves in the financial world with each passing day, where some are soaring high, others have deserted sorely in its beginning.
Economically, a surge in virtual currencies has shaken up the entire internet and financial market, touting it as something that may drastically alter the landscape of the Fin-Tech industry.
After all the turbulence that crypto world went through, despite that most currencies continue to hold a lot of value.
Here in this article, we look at seven cryptocurrencies, selected from over 18,00 (specifically with their hype and market value) to get a better understanding of what it is and its features that made then rage all over the financial sector.
Let's get started with the first cryptocurrency that has transformed the dynamics of the financial exchange with its arrival.
BITCOIN (BTC)
Bitcoin is the first virtual currency that came into existence digitally in the year 2009 and has been a trendsetter from the very beginning of the crypto-exchange process.
Be it, decentralized network, transaction stimulation, or security constraint, it has ushered as the de facto standard for other cryptocurrencies.
Beyond its anonymous nature, bitcoin has the potential to change dynamicity of the entire money transaction process and regain.
If we look statistically through market capitalization, the cost of Bitcoin has outgrown tremendously from $300(three years ago) to $6,761.35 (460,313.81INR) June 2018, present, making it supremely an attractive investment choice for investors to get into this digital commodity.
According to the current trading hoist, Bitcoin is rated to be the most reliable of all cryptocurrencies, as it is the oldest, and has become the topic of mainstream media through its rapid growth in the market as well as the innovative technical concept.
With the passage of time, Bitcoin may become the ultimate standard for matching the market costs of all alternate cryptocurrencies with the price of BTC.
Let's elucidate some of its salient features.
CHARACTERISTICS:
Non-repudiable
Firstly, Bitcoin is known to be the bearer e-cash which defines to be having the same functionality as the physical cash. In simplified words, the transaction is irreversible( if you make a payment, you cannot take it back).
It ensures the reception of payment, no trader involved in the trade can scam and claim that they never received money.
2.Fast
The Bitcoin network processes are fast and secure. Even the transaction published on the distinct part of the world will be faster than transfer made by any conventional bank.
3.Decentralised
Not to forget the Network independence is the key feature that evolved the use of this digital commodity.No government authority or the third party is involved in any transaction or payment process.
LITECOIN(LTC)
Litecoin with a market capitalization of $5.511B is arching the financial globe by reaching its full potential. On a technical front, it makes use of the Scrypt encryption algorithm, as opposed to SHA-256.
Litecoin is designed to make transactions faster and easier than Bitcoin. With the introduction of Litecoin code and use of a cryptographic algorithm, the block generation process becomes faster(4times the bitcoin). Besides, the entire amount of Litecoin is four times the quantity of Bitcoin available for mining.
CHARACTERISTICS:
Numerically, the coin limit for Litecoin is four times the size of bitcoin( 84 million versus 21 million).

The use of SHA-256 algorithm results in more serialized calculations as compared to SHA-256 in bitcoin. Also, Scrypt favors high-speed RAM, rather than raw processing power alone.

Litecoin employs Atomic Swap which permits the user to swap between cryptocurrencies directly with the use of a smart contract.
ETHEREUM (ETH)
After Bitcoin, Ethereum is most popular cryptocurrency in demand by investors with the market capitalization of $ 499.86(June 2018) which is 34,030.53 INR according to Indian currency.
Amongst crypto-community, it beholds its payment system, coding language, and internet browser, Ethereum has come a long way taking Bitcoin behind with its self-owned features where it employs codification, decentralization, trade, and security about everything.
CHARACTERISTICS:
Ethereum as a platform engages in creation and deployment of blockchain applications and new token(ETHER).

Verification and formulation of transaction rely on the use of smart contracts.
BITCOIN CASH (BCH)
Another most prevailing digital commodity is Bitcoin cash which is ranking third with its market capitalization value as $855.66 (58,253.42INR) until June 2018
Peculiarly, for its scalability issues, it has emerged over all other cryptocurrencies- providing adjustable block size in the Bitcoin Cash blockchain which permits bulk of transaction in a block(bigger block size) with almost lower transaction fees.
The only constraint involved in Bitcoin cash is the bigger block size that requires extra processing power to verify putting the nature of the blockchain at risk.
CHARACTERISTICS:
Bitcoin Cash blockchain technology is fast, simple, stable, low fees and highly reliable plus secure cryptocurrency offering investors some exceptional features to plant their money into it.
2.New Transaction Signatures: With the origin of a new SigHash type( replay protection) and hardware wallet security has improved the transactional version of this cryptocurrency.
3.On Chain Scalability: With an increased block size limit to 8M(default), the block dimensions are easy to adjust, making Bitcoin cash more chain-scalable.
RIPPLE XRP
Ripple is a subversive technology designed primarily for making the fast and secure transaction between cities and countries. Currently, the market capitalization value of this virtual currency is $0.534367(36.3798INR).
Besides, if we delve deeper into the process of money transfer, Ripple records transactions on blockchain ledger only after user converts their currency to Ripple.
What makes Ripple stand out of other virtual-currencies is it relies on fixed supply and does not employ mining instead it uses time-locked contracts.
CHARACTERISTICS:
Unlike other crypto-currencies, buying Ripple becomes slightly different in approach. Investor buys it from different exchanges to exhibit money in a wallet.

Many banks and financial institutions support Ripple.
MONERO(XMR)
Prevailing with the market capitalization of $ 126.60(8,618.94INR), Monero is known to be privacy-oriented cryptocurrency that has sustained in the multiple web marketplaces with its potential privacy settings.
Also, with a system called 'Ring Signature,' Monero permits to conceal the identity of its senders and recipients.
Moreover, with its high-level of privacy, it is perceived to be less speculative as compared to other digital currencies.
Characteristics:
If we observe it so far, most of the crypto-currencies have appeared as the derivative of bitcoin only while Monero as a virtual-money technology uses its own CryptoNight PoW hash algorithm(CryptoNote protocol).

Monero ensures transactions to be privates and secure. In explicit words, Monero's blockchain creates a ring that is only accessible to a specific user.
DASH
The most promising alternative coins to Bitcoin is Dash – Digital Cash which is arching the structure of Fin-Tech industry gradually with its market capitalization value $266.36(18,133.81INR).
It is known to be the most valuable cryptocurrency by market capitalization.
Looking through its arrival in the financial world, it grew in the year 2014 by developer Evan Duffield to change the primary drawbacks of Bitcoin that is privacy policies and transfer rate, Dash emerged as the ultimate solution, for providing safe, secure and untraceable transactions.
CHARACTERISTICS:
Private Send – The funds are sent privately by mixing it in between several other transactions.
Instant Send – Dash allows you to send your fund within the time limit of 1.5 seconds.
Master nodes – With nodes like Mater nodes dash performs Private-Send and Instant-Send features.