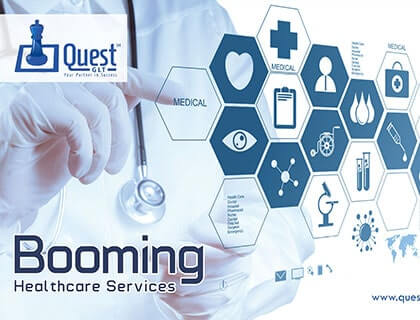 Mobile health or mHealth as the name suggests provides healthcare facilities through mobile phones. Smartphones have become an inevitable part of our life. It has become a part of our daily routine through shopping, booking movie tickets, buying groceries, playing games, etc. So, why not use smartphones for healthcare. They provide accurate information about the patients, secured electronic information with other clinicians and even help in diagnosing patients reducing medical errors.
BOOMING MOBILE HEALTHCARE
Quest GLT has launched PWave Tech Software to improvise healthcare and help the hospitals reach their performance targets. This software is customized according to the user whether it's a doctor, patient or a nurse. This software has been implemented in Indira Memorial Hospital and Angels Women's Hospital. Indira Memorial Hospital used PWave Tech with an aim to bring transparency and provide better experience to its patients. Efficient patient management, elimination of duplicate works, consolidated patient database and interaction among the various departments are some of the benefits. Installation of PWave Tech at Angel Women's Hospital has helped in making the tedious billing process fast. It makes sure that the supplies and equipment's are well maintained, provides a real time chat feature for any queries and easily accessible to hospital reports. This has resulted in better revenue management and better quality ratings.
Quest GLT has designed a website for Cali Eye and Laser Institute to reach out to the people. It allows to schedule appointments online, to find the location of the hospital and is user friendly. This platform has helped it to receive high CMS ratings and thereby increased the number of patients by 55%. Quest GLT has also developed a website for Nutrimedrx, a firm offering nutritional healthcare products. It provides buying and payment options, customer reviews, shopping cart and shipping configurations. As a result, the orders doubled within a month and health benefits too rose exponentially.
PWave Hosp is another excellent feature developed by Quest GLT. It is an excellent artificial intelligence based software developed by software engineers with the guidance of specialized doctors. All patients activities are tracked and proper medication can be advised. It is linked to Pharmacy, Doctor, Reception and all hospital reports are available at the finger tips.