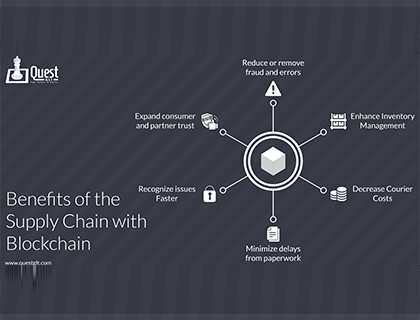 One of the most attractive benefits of using blockchain for data is that it allows the data to be more compatible. Due to this, it becomes uncomplicated for companies to share information and data with production, suppliers, and vendors. Transparency in Blockchain helps reduce delays and clashes while restraining goods from getting fixed in the supply chain. As each product can be tracked in real-time, the chances of misplacement are rare.
Benefits of the Supply Chain with Blockchain
Blockchain offers expansibility through which any large database is accessible from multiple locations from around the world. It also provides higher standards of security and the capacity to customize according to the data feed. Moreover, blockchains can be created in a private way to which will allow the data to be accessed explicitly between the parties those who have permission for it.
The value of adopting blockchain technology can be taken from the fact that it has the potential to connect different ledgers and data points while maintaining the data probity among multiple participants. The properties of transparency and inflexible of blockchain technology make it useful for eliminating frauds in supply chain and maintaining the probity of the system.
Other benefits of acquiring Blockchain technology in the supply chain industry are:
Reduce or remove fraud and errors

Enhance inventory management

Decrease courier costs

Minimize delays from paperwork

Recognize issues faster

Expand consumer and partner trust.