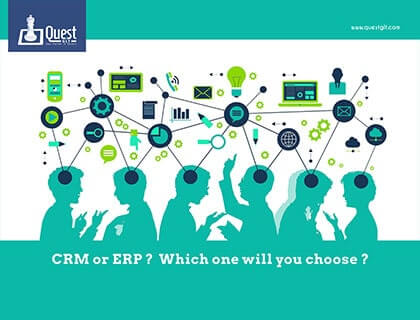 Customer Relationship Management (CRM) and Enterprise Resource Planning (ERP) share much in common. Both are used to increase the profitability of the business though their paths differ. Their core functionalities differ, but each plays an important role in customer and business management.
CRP focuses on increasing the sales and revenue through customer management. It is a system used for storing customer data and information. This data is then used by officials in all departments for their job purposes. Client details are used by salesmen to make them aware of the latest product, during presentations to provide client reviews, bills to create invoices and even by shipping clerks to verify address. Efficient customer interaction and a software database will definitely increase the sales and strengthen customer relations.
ERP, which is on the other side of the profitability coin focuses on business management. The software has helped to maintain business efficiently. They include marketing and sales, manufacturing, product planning, accounting and supply chain management. All officials in the workplace like the executives, supervisors and employees have to fill in the information of the business. This not only helps to get the current status of a project but also hints us for any problem. If any, then it creates alerts for the affected areas and the corresponding departments. The departments then work closely to eliminate the flaws and plan to prevent it from affecting other departments. Thus, reorganizing the business structure will increase the profit.
If you want to increase the sales with the existing business structure, then go for a new CRM system. But if you want to increase the profit with new business policies and your firm has a good growth rate, then go for a new ERP system.