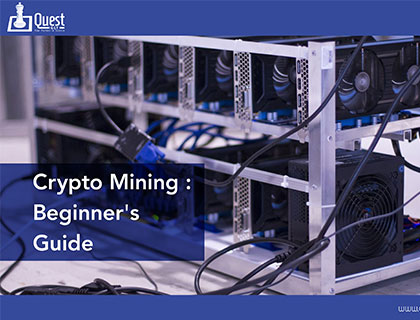 Over the past few years, cryptocurrencies like Bitcoin, Ethereum, Litecoin and other alt-coins have transformed the cryptographical world with its resurgence. More so, merchants ratify crypto-exchange phenomenon as a transcending investment for making money through digital commodities. Also, more or less it has become a good source of buying, selling and investing funds.
Since the most important aspect about cryptocurrency recounts a lot about its autonomy and liberal working, in particular- the decentralized system so, the production of all these currencies are independent of any sub-system. No central authority is responsible for issuing notes (paper-money) or metal coins. Henceforth, the purpose of crypto-mining arises primarily for generating currencies like Bitcoin or litecoins, or any of the other so-called 'alt-coins' through the process of Mining.
To have an in-depth knowledge of what and how crypto-mining works, let's jump straight to its core.
WHAT IS CRYPTO-MINING?
Cryptocurrency mining or crypto-mining is a method adequate for formulating and verifying transactions from different cryptocurrencies, added to the blockchain ledger. Referential to various cryptocurrencies, it is known as crypto-coin mining, altcoin mining, or Bitcoin mining(based on the currency name).
In layman terms, for ensuring the authenticity of information and updating the blockchain ledger with the transaction crypto-mining process enrolls in, where a crypto-miner is responsible for keeping track of all records and transactions.
Functionally, when the mining process integrates to govern transactions, discrete mathematical problems (relating to cryptographic hash functions) starts to solve.
Authoritatively, only crypto-miners can solve these analytical challenges, perks of which crypto-miners earn small amounts of cryptocurrency of their own. Typically, to receive rewards for cracking code, crypto-miners operates a computer with highly configured hardware.
GET STARTED AS CRYPTOMINER
Before subjecting to the process of crypto-mining, let's elucidate why crypto-mining and how is it worth the while?
If asked, what could be more befitting than being a crypto-miner when cryptocurrencies have become extensively mainstream, providing an unrestricted market to earn an income? If said mining process can make you gain funds every day, then who wouldn't want to indulge in this activity? Wholly, everybody would!
As mentioned above, to each modification and authentication performed on a transaction, a crypto-miner earns a reward of about a dollar or two per day depending upon the investment made. Therefore,crypto-mining has become a gradual process, leading to 'earn through reward' system.
Furthermore, crypto-coin mining can contribute to a small gathering of funds as digital currencies are very easily accessible, allowing regular people to mine and secure a profit of about $1000 through hardware costs within 18-24 months.
Although considering it as the only income option would not be a reliable way to make substantial money as the profit from mining
becomes trivial if the investment made is inadequate.
Let's now pore over on how to get started as a crypto-miner!
Technically, a crypto-miner requires a dedicated computer hardware ( highly configured), specialized graphical processing unit (GPU) chip or application specific integrated circuit (ASIC), incessant internet connection for a better production, a software package for cryptocurrency mining , and lastly membership in both cryptocurrency exchange as well as in an online mining pool.
Moreover, setting up yourself as a crypto-miner is not an easy chore, it requires a lot of investment schemes before delving into the market, not just hardware or software requirements but other expenditures too. Explicitly, an amount of £1,000 is spent on the singular hardware to mine most advanced cryptocurrencies. Substantially, a crypto-miner need to keep an eye on the rising costs of crypto-currencies and the market capitalization to invest safe and big.
Let's understand all the parameters attached to the crypto-mining process to mine a currency.
PRIVATE DATABASE
A private database is a coin wallet which is a password-protected container primarily in use to store earnings and keeps a network-wide ledger of transactions.
MINING SOFTWARE PACKAGE
A free mining software package is a set of cgminer and stratum that connects you to blockchain if you are a solo miner or to pool if you mine with the pool. For cloud mining, there is no necessity for any mining software.
Some free mining software packages for windows are CG miner, BTC miner, BFG miner, and Easy miner, aloof BTC miner, all other works great with LINUX and Mac OS X.
3.MEMBERSHIP WITH MINING POOL
An online constitutes a community of miners dealing with profitability and stability of income.
4.MEMBERSHIP WITH A CURRENCY EXCHANGE PLATFORM
An integral part of crypto-mining is the association with a reliable exchange platform to exchange virtual coins.
5.INTERNET CONNECTION
The crypto-mining process requires constant, full speed internet connection.
HARDWARE SETUP LOCATION
As most hardware components are induced in the process so, some means of cooling or air-conditioned space is required.
GRAPHICAL PROCESSING UNIT(GPU)
These units or chip are the workhouses to provide accounting services and mining work during the mining process.
8.CUSTOM BUILD COMPUTER
A separate dedicated computer is ideal for the use of mining. No conventional computer with average configuration or any gaming console or handheld device is advisable to mine.
COOL ENVIRONMENT
The mining generates substantial heat during the process which needs to be blown off to keep the environment cool as cooling the hardware is mandatory for optimizing the desired result.
PERSONAL WILL
Constant learning and reading is the absolute need a crypto-miner should have to perform mining techniques.