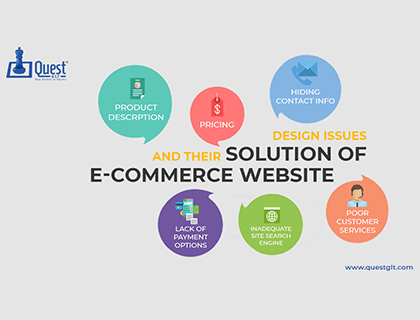 From the past few years, E-commerce has become a vital tool for sales. No doubt it has a hopefully bright future ahead. With the increase in internet sales, it grows extremely. Therefore, E-store owners are trying their best to develop a user-friendly website by choosing a substitution design and modern techniques. But what if your customers' face with some issues, it could guide them to leave the site without any major activity. Here are some issues related to E-commerce web Design:
Pricing
Price is the most important thing for a customer when it comes to online purchasing as there are lots of other competitors in the market which are selling the same product at a lower price than yours. You can avoid this problem by focusing on "deals of the day, week "or by providing some extra discount offers on weekends, festive seasons etc to convince them for future reference.
Hiding Contact Information
By providing the valid contact details you are satisfying the customers that they are dealing with a reputed company and if they have any problem in future someone is there whom they can able to get the help. You must add a contact form on your website which consists an email id, phone no. to gain customers trust.
Product Description
Most of the customer queries are related to the lack of product description. Lack of details Makes a negative image on customers mind and will leave you in a state of doubt which impacts the sale of your products and services. GIve all the details related to the products like size, color, material type, the fabric used, size chart, weight etc will make a good impact on customers and help them to choose accordingly.
Inadequate Site Search engine
You need to include a search function on your website so that it will help customers to easily search any item on the same site instead of customizing their search result. It can be done by using correct keywords for a particular item and after that can be able to refine their results further based on certain criteria like price range, size, color, brand etc.
Poor Customer Service
If a customer is experiencing few problems and wants to contact with an e-store then there should be an option for them to contact with a worried person who is dealing with all these kind of issues. A solution to this is to allow them to fill a contact, inquiry or a feedback form to build a trust factor among them. Place all the FAQs, where all commonly asked questions are being answered
Lack of Payment Options
An e-store holder should focus on every individual who owns a credit or debit card and also who doesn't have as in case if he or she wants to pay from its account directly. You should give as many as payment options, to increase their options which indirectly improve company image and hold the customers for a longer period of time.
Require an account to order
Don't force customers to sign up for an account before placing an order as it looks like a difficult for them. Instead of this, look for a suitable option like saving your account detail for the further order, check your order status, your saved items, credit points etc.
Bad shopping cart design, tiny product images, not including shipping charges, confusing navigation, not displaying their products are some other major issues which one should keep in mind while creating an eCommerce website Design. Dropping products into a database will not work except they do creative planning considering these issues and avoiding them as much as possible.