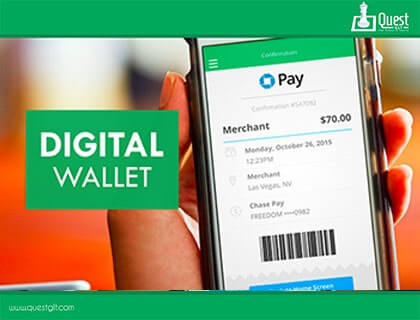 DIGITAL WALLET: DEFINITION
DIGITAL WALLET is the medium of exchange of money in return of the GOODS AND SERVICES that are used by you. Besides DIGITAL WALLET, there are other types of money exchange like BARTER SYSTEM AND OFFLINE EXCHANGE.
BARTER SYSTEM is the medium of EXCHANGE OF MONEY where GOODS AND SERVICES are replaced by the OTHER GOODS AND SERVICES. There is no exchange of money takes place.
OFFLINE TRANSACTION OF MONEY- EXCHANGE OF GOODS AND SERVICES are replaced by the physical transaction of money at that particular moment of time.
DIGITAL WALLET: EXPANSION
DIGITAL WALLET is one of the most efficient method for the online transaction for any GOODS AND SERVICES. DIGITAL WALLET transactions are very fast in nature. Some of the BIG E- COMMERCE likes AMAZON, FLIPKART AND MYNTRA use the PAYTM , a largest mobile payments company of the world. PAY TM is one of the finest example of DIGITAL WALLET that allows the CUSTOMERS to pay online through NET BANKING,DEBIT CARD etc . Transactions of any type can be done through PAYTM. Even CUSTOMERS avails the opportunities of the 100% INSTANT CASHBACK and DISCOUNT on GOODS and SERVICES.
DIGITAL WALLET- MAJOR BOOST TO G.D.P ( GOODS AND DOMESTIC PRODUCTS ) OF INDIA
After, the ERA of DEMONETIZATION in NOVEMBER 2016, INDIA ECONOMY has suffered the major setbacks. The end of RS.500/- and RS.1000/- currency notes led to declination of G.D.P of our country. The G. P D. of INDIA fell from 7.1% to 6.1% in one year. This can incur a huge loss, if DIGITAL WALLET was not there in INDIA. DIGITAL WALLET encourages the CASHLESS transaction. DIGITAL WALLET drastically improved the aftermath of DEMONETIZATION, which helps to maintain the INDIAN ECONOMY.
DIGITAL WALLET: PERKS
CASHLESS TRANSACTION has its own advantages-
INSTANT MODE OF TRANSACTION

RELIABLE AND EASY MODE OF TRANSACTION

TRANSPARENT MODE OF TRANSACTION
DIGITAL WALLET: UPCOMING YEARS
DIGITAL WALLET shall become the one of the best mode of ONLINE TRANSACTION. It has the ability to overpower the other modes of TRANSACTION.