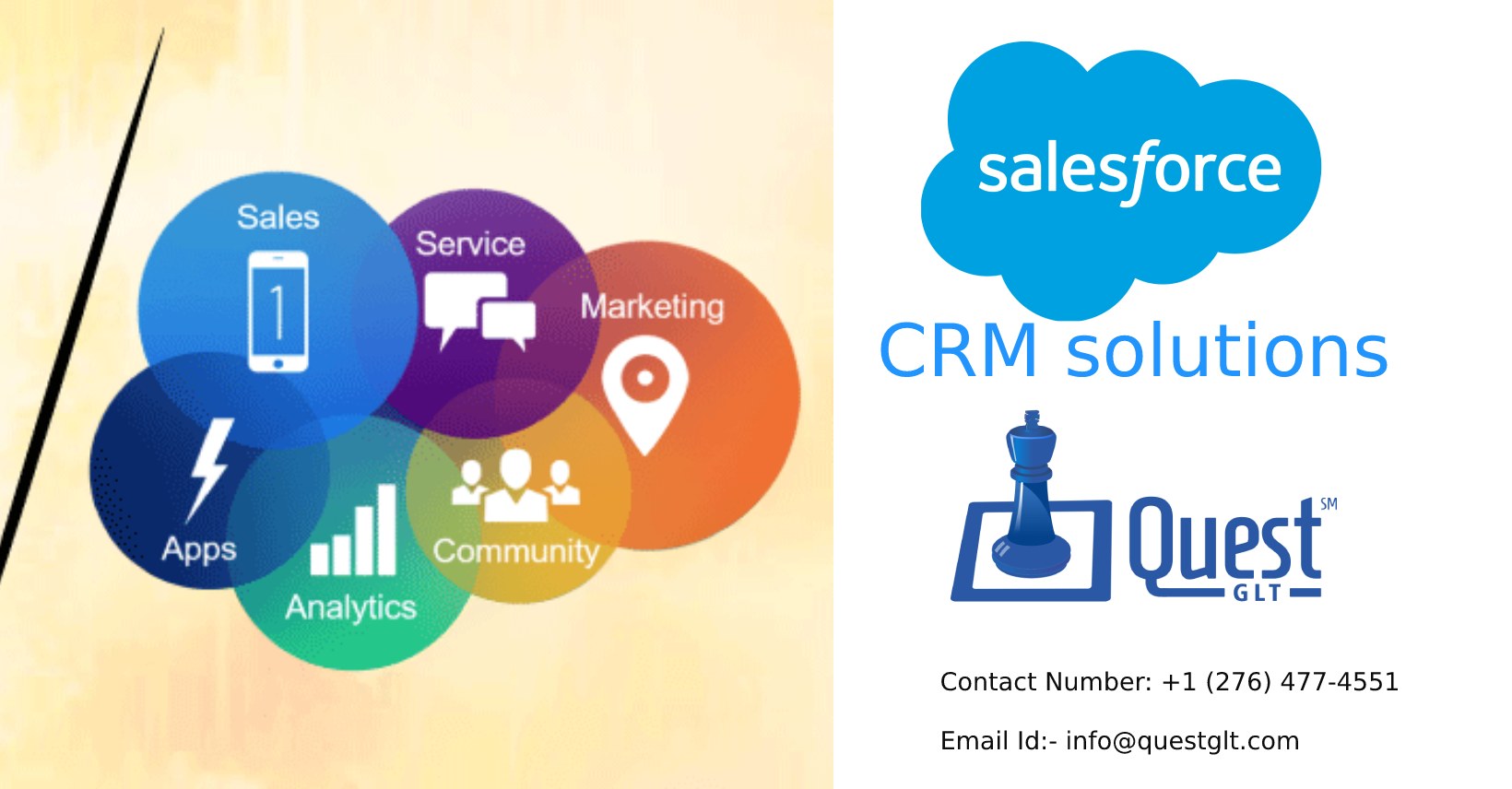 The quest to become the best can be challenging, especially when running and managing two or more systems are involved.
As a result, businesses often struggle to segregate their workforce and shuffle between priorities to maintain a streamlined workflow in such conditions. This, in turn, leads to inefficiency and delay in operations. As professionals in Salesforce integrations, we understand such inconvenience like no other.
With Quest GLT, your business no longer needs to be caught between the different phases of your operations. Instead, let our experts manage salesforce integration across other business units and multiple touchpoints while you propel toward better customer management and amplified operations.
Get In Touch
Reaching New Heights? Here's How Salesforce Can Be Your Summit Partner
World's #1 CRM
Integrated platform for app development, AI, and other best-in-class applications for your business. No matter the nature of your operations, Salesforce has you covered.
Single Source of Truth
Your sole touchpoint for marketing, connected sales, service, commerce, and personalized IT experiences.
Fast Time to Value
Forget about salesforce integration services taking years or months to integrate. Instead, the ease of design and implementation speed allows us to serve you with high ROI in days and weeks.
Scalable and Flexible
Easily scalable solution, no matter the size of your company or industry. Once signed up, you can easily scale up per your needs and at your convenience.
Trailblazing Success and Community
96% of customers admit that they met the target or exceeded ROI expectations after the Salesforce integration cloud.
Reap The Benefits Of An Advanced Workforce Today
Our Salesforce Integration Solutions
Salesforce integration is a crucial step for businesses as it allows you to access critical data scattered across different aspects of your operation. No matter the type of software used, businesses need to have them functioning in sync. Additionally, every software used inside the ecosystem must communicate with each other while sharing data to deliver productivity.
As a leading Salesforce integration as service provider, Quest GLT offers scalable, reliable, secure, and secure Salesforce integration with your existing ecosystem and external cloud services. In addition, we have the expertise to smoothly migrate your data from different applications in your native ecosystem to integrations in Salesforce.
With the help of our Salesforce teams integration, we also allow businesses to work their way with 3rd party tools and other S2S migration attempts.
Here's a highlight of our core offerings:
Salesforce CRM Integrations
Quest GLT conducts seamless Salesforce integration with authoritative CRM systems like Oracle, SAP, SOHO, and Nimble. We help you get a bird's eye view of your products, feedback, and customer retention.
With Salesforce CRM integration, your business can:
Align different aspects of your front and back office sales and give you better insights on upselling efforts and marketing strategies.

Keep in Sync with the Customer's Master, Product, and Prices.
Salesforce CTI Integration
Quest GLT allows businesses to connect their 3rd-party CTI (Computer-Telephony Integration) systems with Salesforce or activate the CTI toolkit of such platforms to improve sales and boost the quality of operations and service speed.
With Salesforce CTI Integration, your business can:
Automatically login and record calls for a seamless customer experience.

Recognize and route incoming calls to dedicated support stations.
Wrike Salesforce Integration
Quest GLT helps businesses bridge the gap between managing projects on Wrike and managing clients on salesforce development Companies in usa. Our experts will help you patch up Wrike and Salesforce to leverage cross-platform operations over one dashboard seamlessly.
With Wrike Salesforce Integration, your business can:
View and create Wrike tasks without exiting Salesforce.

Instantly reflect changes across both Salesforce and Wrike.
SFDC Integration
With Quest GLT supervising the Salesforce integration process, businesses of all genres can tap into the possibilities of CRM. In addition, our team of experts allows users of both SAP and non-SAP backgrounds to tap into the Advantco Salesforce (SFDC) module.
With SFDC Integration, your business can:
Leverage modules across SAP and Salesforce.

Get major updates on both platforms and use them over one dashboard.
What Makes Quest GLT A Leading Salesforce Integration Service
At Quest GLT, we have over a decade of expertise with the Salesforce integration tool. In addition, we have rich experience working with businesses across vast niches and industries. Our qualified Salesforce integration specialists tirelessly provide your business with a frictionless integration experience.
Our expert team gets detailed insight into your existing operations and strategically integrates it with Salesforce. Once done, we create a win-win ecosystem where organizations can enjoy seamless access to multiple levels of their operations without toggling between applications or moving back and forth between systems.
We don't just jump into action with our integration tools in Salesforce. We analyze, understand, draw a blueprint, and then act. When connecting with Quest GLT, you can rest assured that your business is undergoing a safe transition experience.
Schedule An Appointment Today!