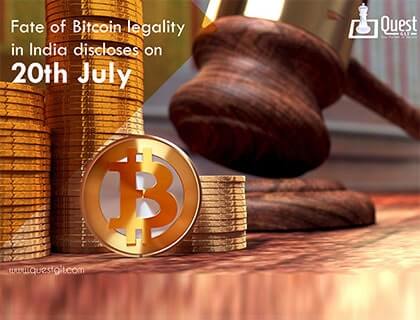 Indian investors of Bitcoin are in a position of major fix since April 5 after RBI's statement. There are plenty of questions which are traumatizing the investors and are almost synonymous to the situation of demonetization which was declared on 8th Nov 2016 by our Prime Minister Narendra Modi.
STATEMENT OF RBI (5TH APRIL):
RBI which is the central bank of India on 5th April passed a decree which says all the regulated financial institutions to quit giving services to businesses trading in cryptocurrencies such as Bitcoin. It also gave banks tenure of 3 months to do the above. However, people got panic by the news and suddenly have started selling these bitcoins dime a dozen just because they feel that if cryptocurrency gets declared illegal then they will lose all their money. Also many questions had aroused with this ban like
Should they do investments in bitcoin?

Should mining be continued?

Also what will happen to their invested money?
One thing is clear that the legality or illegality of Bitcoin is never stated y the government or banks, they have always spread warnings so that they want take any responsibility in case of any fraud. Maharashtra police registered the largest cryptocurrency fraud against Money Trade Coin (MTC) owned by Amit Lakhanpal after which the Kerala police have decided to give training to its cops which aims at making them familiar with cryptocurrency and how they can be used to fool people.
REACTION OF PEOPLE AFTER RBI STATEMENT:
After such statement of RBI people started getting panic thinking their investments shall fail and give them no returns. However, it became evident after the questionnaire fired by Mr.Sethi that the RBI has not made any efforts to study and understand the nature and usage of cryptocurrency before and straight away issued a ban. Also, no internal committee had been formed to investigate about the coins and what threats will we face if declared legal. So, some trading platforms and companies have challenged this decision of RBI in the Supreme Court. It is also heard that some trading platforms have decided to leave the country for better judgement on the decision.
KUNAL BARCHHA'S EXPLANATION ON THE STATEMENT:
The co-founder of coinrecoil explained that it is impossible for the government to ban cryptocurrency as it will not give any solution rather will make things worse for the government as well as its users. It will also make India backward in the technology of blockchain across the world. As the expected date of result is 20th July they are also trying to talk to their lawyer to see if theycan request the court to hear them before the circular comes into effect.
STATEMENT OF SUPREME COURT:
After the declaration of RBI and the action of various cryptocurrency exchanges, SC decided to hear all the petitions on 20th July and told the concerned parties to take their complaints to the RBI to consider their requests. The Supreme Court also allowed the shareholders and traders to present their cases within two weeks i.e. till 8th July. Also credit cards were banned if used for buying cryptocurrency as if return of investment is not received then it will create problems for the bank.
INDIAN EXCHANGES REACTION AFTER THE STATEMENT:
Famous Indian exchanges like zebpay sends a mail on 23rd June warning Indians to withdraw their investments before 8th July if they want to as they might not be able to allow withdrawal if the Supreme court gives any statement against cryptocurrency.However, if given a thought these Indian finance institutes like unicon, zebpay,etc. keep huge margins i.e. buy the coins in lower price and sell them at higher price to Indians and thus earn huge profits; technically called Arbitrage.
WHAT SHOULD INVESTORS DO IN THIS SITUATION?
The answer to the above question is very simple and logical. Bitcoin is not sentenced illegal yet and the final statement is pending which will be given by the Supreme Court on 20th July. Now there can be two possibilities either the coin will be legal or illegal. In both the cases the investors will have no harm and their cash will be safe through many ways.
If sentenced as legal then the procedure can continue as it is going without any changes and also many of the investors who previously refused investing may feel free to invest in Bitcoins.
If sentences illegal then still following ways are available:
Trading in Bitcoins can still be continued and the coins that are placed in your E-wallet basically international E-wallet shall not cause you any trouble.

You can also trade in International markets and increase your profits by investing less and earning more.
So, it is better to stay calm and wait for the declaration of the Supreme Court. It will be foolish to withdraw your investments as there are always many options to cope up with. People are giving suggestions in alternative of banning the currency likeimproving the KYC-AML [Know Your Customer -Anti-Money Laundering] norms, such as including passport details. Also they are ready to accept suggestions from the government as ban should be counter-productive. At the end all we can do is wait for our jurisdiction to take an action beneficial to the entire Indian mass and take safety measures to stay away from any loss.