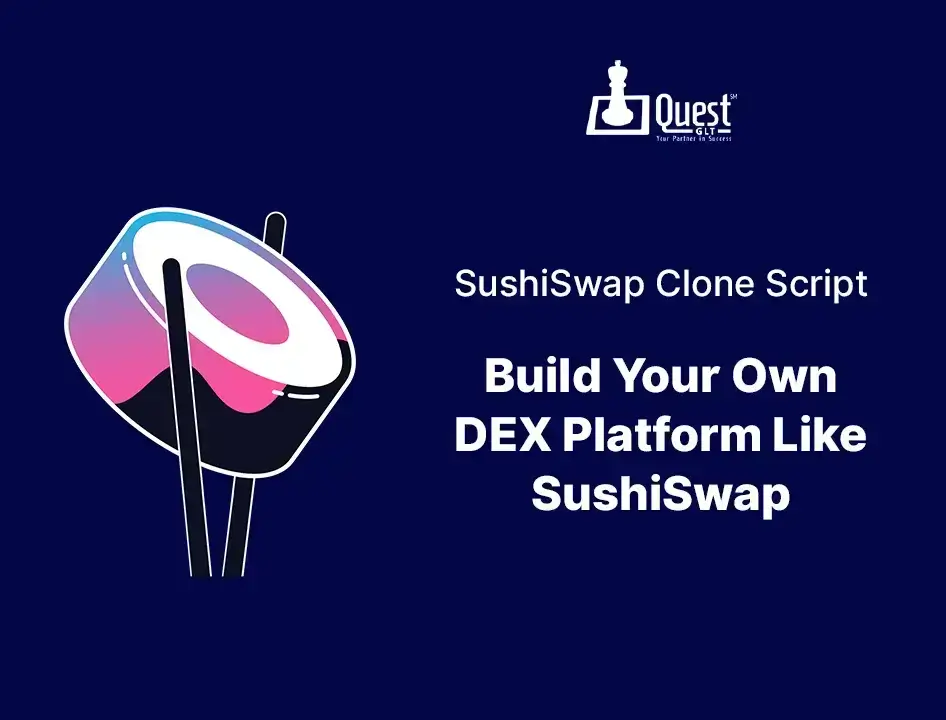 Introduced in August 2020, SushiSwap or SUSHI is known as both a decentralized exchange (DEX) or cryptocurrency token. The exchange provides a platform for all to swap or exchange cryptocurrency. Thus, the word "swap" comes in the name of its second half.
Recently, this cryptocurrency exchange has had more than $3 billion in liquidity, and the cryptocurrency's price has grown by above 1,500% since November, as per recent data.
What Is Sushiswap?
Developed by Chef Nomi, SushiSwap is a decentralized exchange (DEX) furnished with its individual custom AMM (automated market maker) smart contracts that run on the Ethereum blockchain.
SushiSwap secured its position in DeFi by enforcement, robbing the attention from Uniswap, simply long enough to devise what appears to be a permanent place for itself in DeFi.
To understand it better, we should first know about decentralized exchanges and their work process. Without confusing you with technical terminologies, it will be good to find the answers to these 3 questions:
1. What is a decentralized exchange or DEX?
A decentralized exchange is a cryptocurrency exchange where users may exchange coins straight with each other. Not like a centralized exchange, there is no 3rd party in between to verify the trade. These exchanges generally use small portions of code known as smart contracts to assure the transactions take place easily.
DEX accounts for approx.1 to 4% of the overall trading amounts. The total trading quantity on the first 10 DEXs is no doubt inferior to the amount on the initial 10 CEXs, with a proportion of $0.104 tn to $1.44 tn each, according to the data of March 2021.
Still, DEXs are holding a huge impact on the growth of the blockchain world and the decentralized internet.
2. What is an automated market maker or AMM?
The regular exchange involves order books with buyers and sellers. In diversity, Sushi comes by an automated market maker to make it feasible to trade for its users. The AMM makes a liquidity pool of tokens and uses intricate formulas and algorithms to manage the prices in line with the market.
In simple terms, it can be said that AMMs are self-governing trading methods that remove the necessity for centralized exchanges and associated market-creating systems.
3. What is a liquidity pool?
Liquidity pools are nothing more than an AMM that brings forth liquidity to bypass big price changes for an asset.
A liquidity pool signifies that traders do not require a buyer or seller as they can swap tokens by using the pool. Each pool is created of pairs of tokens that can be traded- for instance, SushiSwap and Ethereum. Investors might share Sushi and Eth to the liquidity pool. They get rewarded by a percentage of any trading fees. Hence, if a person exchanged Sushi for ETH, the individuals providing liquidity would get profit. Also, it may seem a lot to get your head all over, but if you wish to make a SushiSwap-like decentralized exchange, then this information will really help you a lot.
Essential Things To Know About Sushiswap
Investors who are considering Sushiswap must be relaxing with volatility and risk. All cryptocurrencies are risky to invest in, but making investments through DEX platforms similar to Sushi is much unstable. They are notably volatile, which signifies that you may get enormous gains, but you have to be ready for possible losses too. Here, we have discussed some important factors to keep in mind:
1. Passive Earnings
One of the interesting features of SushiSwap and different decentralized exchange tokens is that you can make them operate for you. For example, investors can stake SushiSwap- suppose the APR is 3.46%, but it can vary day by day. Staking locks up your coins and in return, you get rewarded with a percentage of the transaction fees.
More knowledgeable investors might wish to add liquidity to the liquidity pools, but this involves huge risk. If a coin in the pair adequately exceeds the other, it can direct to something known as temporary loss. The investor might not be qualified enough to attain the same profit from the price growth since they would if they solely held the coin.
2. Market Competition
Sushi is not just a decentralized token on the market, and it is difficult to see what will come on top. Each decentralized exchange provides diverse features, different methods to gain interests as well as interest rates. Since there are many centralized cryptocurrencies exchanges, we cannot say that there's only room for one decentralized exchange.
Previous to you purchase any decentralized exchange token you must decide if you have a plan to go extra into the world of DeFi by staking or increasing liquidity. If that is your plan, then give some time in analyzing the distinct exchanges to decide which one goes with you.
3. Governance of Decentralized Finance
Decentralized finance is a niche of cryptocurrency that has domination all over the world concerned. The thing is that they are giving banking services with no consumer safety and rules that are prevailing for banks. For instance, if Sushi's platform failed or is hacked, then your Sushi tokens could quickly be worth zero.
The Basel Committee on Banking Administration In Europe has suggested that decentralized finance tokens should be riskier investments. If the plans are executed, they will need any financial institutions controlling these tokens for clients to own sufficient capital to fully cover losses if the asset dropped with its complete value. In such a way, for each $100 of SushiSwap, an exchange would need to have $100 in regular money.
For now, it is not clear how authorities or regulations will announce, but if they hold down on decentralized exchanges, then that will definitely affect Sushi's price.
Launching A Decentralized Exchange Like Sushiswap
Token of SushiSwap has done very well since its inception. If you want to develop one like Sushi, then it will be best to look for similar tokens in the world of DeFi and go through probable regulatory modifications. Sound knowledge of decentralized finance will help you in getting the most out of the token.
There is n number of platforms available in the world that are looking to offer you access to different cryptocurrencies. Also, to get the one that is suitable for you, you will have to find out what features you are looking for.
Benefits of Decentralized Exchange Same As Sushiswap
Helps you with an automated market-making process.

Gives a token bonus to liquidity providers.

Adds bootstrap liquidity.

Integrate all decentralized exchange features.

Maximum customization.

Smart contract authorized platform for decentralized exchange.

Uses an on-chain contract or protocol that has the usability of ERC 20 tokens.

There is no policy like KYC or Know Your Customer.

Earning fees even after addition to the liquidity comes to an end.

Around-the-clock security check of the platform.
Reasons That You Should Own A DEX As Sushiswap?
Let's have a look at some of the reasons if you want to possess an exchange like a SushiSwap:
The SushiSwap is based on a decentralized exchange platform that operates with an AMM or automatic market maker in place of the order book, and it permits unidentified trading over the platform without any limitation. It assists in trading tokens and users are capable of getting a portion of the transaction charges gathered at platforms.

The SushiSwap is one of the most successful DeFi exchanges in the market with a 24-hr trading amount of USD 175,053,629. It has a market capitalization of $1,015,192,662 USD with a liquidity of 127,244,443 Sushi coins.

DeFi ecosystem is rising in the current times and launching a DeFi platform such as Sushi will be an innovative business plan. One can initiate a DeFi exchange with the SushiSwap clone script right away.

Sushi's clone makes investors and traders join the decentralized network and earn many rewards, passive earnings from the fund pool in addition to incentives for liquidity providers. As a business owner, you can personalize your smart contract on the basis of your business needs. By considering the above reasons we can say that creating a Sushi-like decentralized platform will make you swap a large array of tokens, as well as involve in different financial services.
Why Quest Global Technologies For Developing A DEX Like Sushi?
Quest Global Technologies is one of the most skillful blockchain companies in the crypto world. We have extensive knowledge of developing DeFi exchanges similar to SushiSwap. In the recent past, we have created many decentralized exchanges for our clients. Our blockchain proficiency in this niche is unmatched. Our main target is to develop crypto projects as per the needs of clients. The client's required specifications are also mixed with our significant features to make the crypto project more effective.
We at Quest Global Technologies devote ourselves to offering the best post-deployment and post-marketing services to our clients to lift up their recently developed DeFi same as Sushi to the next level. Also, we are ready with 24x7 services to our clients to make sure they grow into the best business model in the crypto world.
If you have any further queries regarding the DeFi exchange development, please let us know at info@questglt.com or call at +91 9826922447.