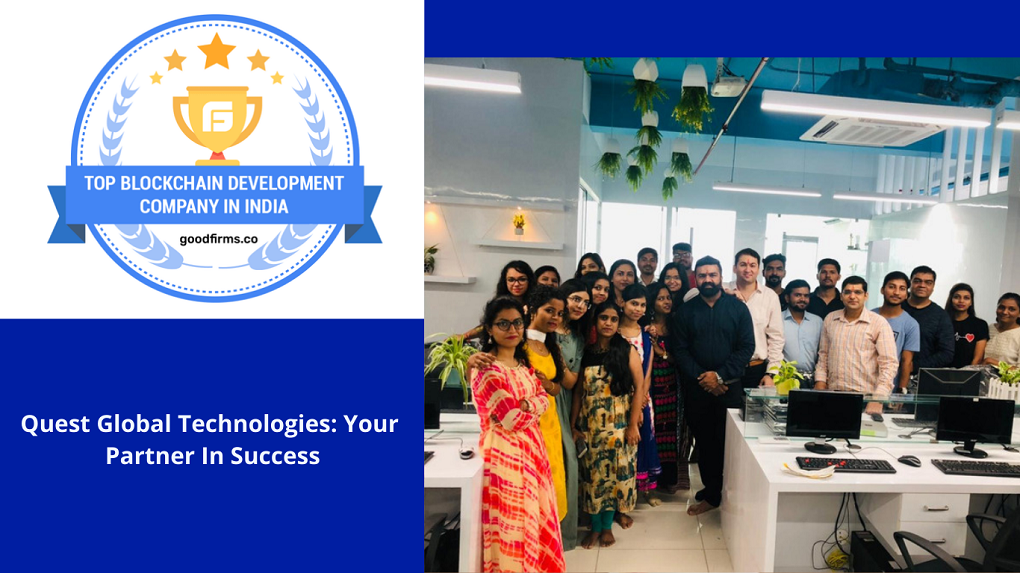 Quest Global Technologies is an Indian IT services company located in Indore, Madhya Pradesh. The creative and talented team of professionals at the company implements blockchain technology to save operational costs and maximize returns for clients' businesses. Moreover, the expert team in blockchain development provides value to clients worldwide.
Quest Global Technologies holds over ten years of experience implementing blockchain applications and has successfully delivered various projects across industries. The organization has a team of more than 50 experts who possess a quality-driven approach to solving their clients' problems. The essential tasks are SAM, DDK, KKOG, and Rowan Energy, making more than an 800% return on investment from blockchain-based projects.
The organization delivers customized blockchain solutions and has achieved recognition from ERP Insights Magazine, covered by Entrepreneur.com, and mentioned by Clutch. The clients obtain the most relevant blockchain development services to build and expand their businesses. That enables its client's vision to move further with its business goals.
GoodFirms is a B2B firm that aims to collaborate with IT service seekers with IT service provider companies. Through extensive research on IT companies, the firm assists service seekers in their search for the best collaborator. GoodFirms scrutinize all the listed companies based on the three most essential parameters: quality, reliability, and ability.
Moreover, the skilled researchers perform proficiently in analyzing customer satisfaction, market penetration, the overall experience gained, and the quality of deliverables.
Likewise, GoodFirms also set up the services of Quest Global Technologies. According to experimenters and analysts, the company demonstrates to be promising in providing excellent blockchain development services and solutions.
Quest Global Technologies provides top-grade blockchain development services and assists its clients in exploring their ideas and discovering prospects by offering recommendations that make their applications stand out. The company's professional advisors have an excellent blend of expertise in all business and technical development elements.
The company's blockchain development services include blockchain consulting, enterprise blockchain development, innovative contract development, custom blockchain solutions, security token offerings, initial coin offerings (ICO), wallet development, and hyperledger development.
Quest Global Technologies has developed robust and secure blockchain applications for healthcare, supply chain, power industries, etc. The company's blockchain consultants enable you to comprehend the business sense and specify the suitable blockchain platform for your business requirements.
The company creates a custom solution to check the relevancy of your business idea by using blockchain's inflexible data and transparency feature. In addition, it makes a pilot project to have an in-depth understanding of your solution.
The team of blockchain developers supports their clients in developing a steady operation to keep their app idea directly from marketing to accounting and from finance to legal expertise. Collaboratively, the professional group of blockchain developers offers the complete package of services for successful blockchain development. These instances will help Quest Global Technologies secure a leading position among India's top blockchain development companies at GoodFirms.
One of the prestigious clients has shared a five-star review of the blockchain technology services provided by Quest Global Technologies.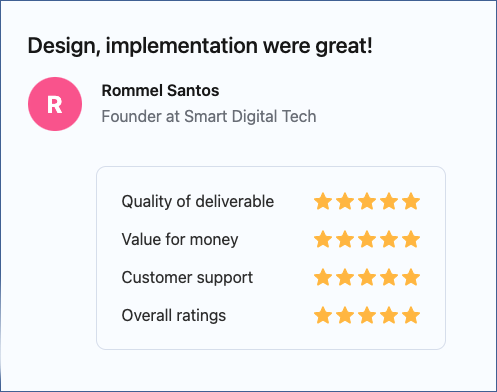 Apart from commendable blockchain development services, the company also offers excellent ICO, Customized ERP Development, Customized Software Development, Digitization, Enterprise Mobility, Ecommerce Platform Development, Salesforce Development and customization, and Learning Management System development services.
About the Author
Working as a Content Writer at GoodFirms, Anna Stark bridges the gap between service seekers and service providers. Anna's dominant role is to figure out company achievements and critical attributes and put them into words. She strongly believes in the charm of words and leverages new approaches that work, including new concepts, that enhance the firm's identity.