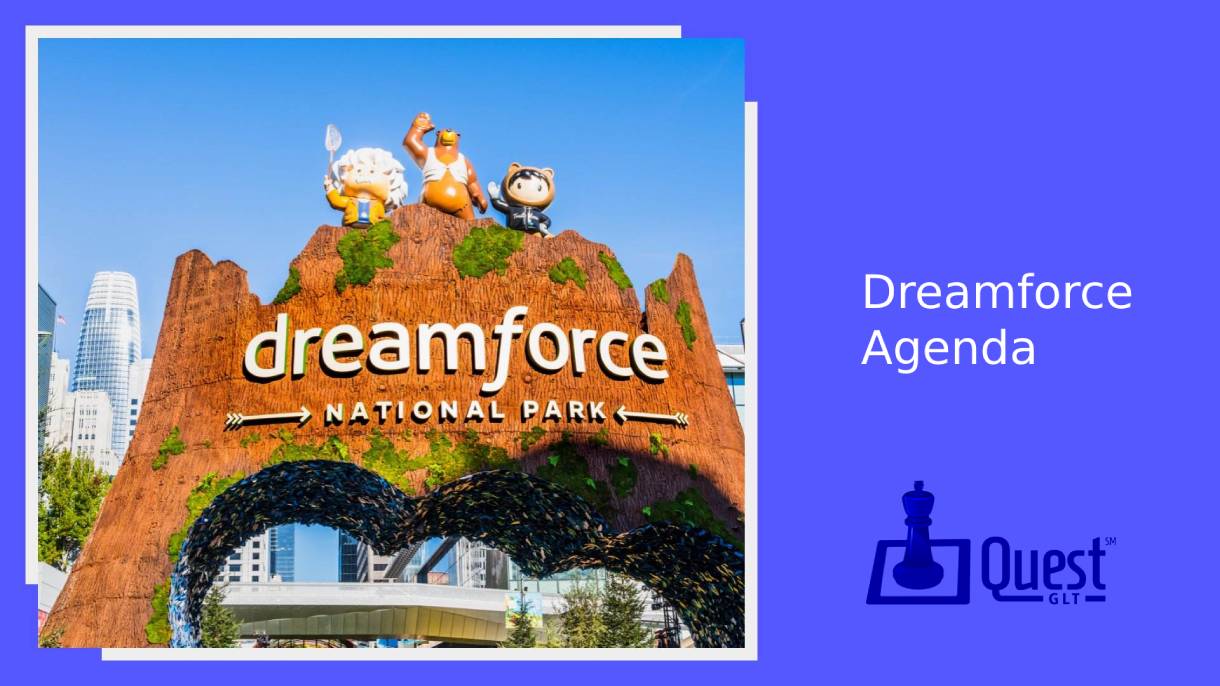 Dreamforce is an annual event of the Salesforce community that is not just a conference but an aggregation of trailblazers from all over the world under one roof to share their successes and learn a lot from visionary keynote speakers in this innovative Salesforce field.
Start Building Your 2022-23 Dreamforce Agenda
Dreamforce welcomes everyone, from newbies, admins and architects to developers and trailblazers. Here the attendees enjoy intimate sessions on any favorite topic and become informed about the tech world beyond their imagination.
What you can expect in 2022-23 Dreamforce?
The Dreamforce platform is quite beneficial for every individual who belongs to the Salesforce community as you can know about all the latest and big announcements of this tech world.

It offers you the chance of asking the burning questions from your senior Salesforce heads.
You will be amazed to see some legendary speakers on the Dreamforce platform as last year Barack and Michelle Obama, David Beckham, and Stephen Curry embellished the event.
What will be the agenda of Quest Global Technologies as a Dreamforce attendee?
The leading name in the Salesforce community - Quest Global Technologies can not afford to miss accessing exclusive moments of Dreamforce and that's why we as a team have started including very essential elements in our Dreamforce agenda.
Have a cursory look at them.
1. Developing a sustainable world for customers - Quest GLT believes in working for both customers and sustainability. We create a sustainable world for them by reinvesting in them. At the Dreamforce platform, we will be keen to know how partnering diverse companies with Salesforce will change the world for good.
2. An evolving future requires digital transformation - Salesforce is a tech world where reinvention is the only constant. Quest GLT will keep its eyes on learning to become agile so that it can flexibly support its clients in evolving their businesses.
3. Building an updated workforce - The arrival of automation is likely to shift the working method of employees in dramatic ways. It is essential to learn how can we be assured that our workforce is adept at the digital literacy skills of the giant world of Salesforce. Only the upgradation and deep knowledge of digital transformation will help us in shifting to the upcoming business environment.
4. Developing a flexible working culture - In this fast pacing and transforming era a digital workspace is as much important as a physical one. Quest GLT is determined to learn the skills through which it can adapt a convenient interface between consumers and team experts. Dreamforce will unpack several challenges that come across while working from remote areas along with the best possible solutions recommended by the trailblazers.
5. Benefit the planet through a dream pitch - Dreamforce can be a dream pitch for every attendee so for Quest Global Technologies. Watching the ecopreneurs pitching their innovative ideas, learning how can they help people and the planet in evolving and then voting for our favorite is one of the prime agendas of Quest GLT.
6. Women Empowerment - Dreamforce honors the massive contribution of women in every field by providing a platform to iconic lady leaders. Quest GLT will focus on how the efficient women workforce can transform the landscape of the business and tech environment.
7. Embrace the future of Salesforce - Data & Analytics - The upcoming time of the Salesforce community will be highly reclined on the data. Dreamforce guides the newbies by telling them the importance of data when they are not sure of your business idea. The Tabaleu and CRM analytics will lead your business by bringing the teams together, automation processes and driving better decisions.
History and Home of Dreamforce
Since the launch of Dreamforce in the year 2003, its official home is in San Fransisco. But now this humongous tech event has expanded its event location to virtual platforms after 2020.
In 2020 it adopted the pattern of a hybrid event which provided global access to its attendees via Salesforce+. So shrug off the worries if you are unable to manage tickets for attending Dreamforce physically. You can tune in online and be a virtual attendee of Dreamforce.
About Salesforce+ Platform
On the valuable platform Salesforce+, there are a series of free original and special episodes for watching. Stress-free access to those episodes delivering quality content makes your online presence in Dreamforce quite exciting.
Boost yourself with the lucrative features of Dreamforce
The previous year's Dreamforce event included the below-given features that can inspire you to catch all the actions from wherever you want to.
Informative sessions and workshops to learn - More than 1000 informative sessions and workshops were organized at Dreamforce 2022 for providing opportunities to learn from the product experts. People heard many innovative minds regarding the fight against climate change, equality and inclusion through innovations. Global leaders also resolved several complex business queries with their easy and accessible solutions.
Live broadcast for 72 hours and 200 + sessions - The virtual platform for attending Dreamforce, Salesforce+ provided a range of exclusive moments and content. The online attendees were also encouraged to register their experience regarding Salesforce+ and Dreamforce event.
A wide network - It gave an excellent opportunity to get connected with tens of thousands of trailblazers under one roof in San Fransisco. This opportunity helped several companies in finding the right ways and solutions to meet the expectations and demands of their consumers.
Huge Celebration - Dreamforce of 2022 is not only evoked by attendees as a global tech conference but also as a fun event. Multi grammy award-winning artists including Red Hot Chili Peppers, Metallica, The Foo Fighters and The Killers made a headline.
Now after the exciting announcement of Dreamforce 2023, Quest Global Technologies have started thinking about itself in this iconic conference and crucial takeaways from this enormous event for excelling in the Salesforce development field.
You must gear up your preparations for Dreamforce 2023 as the tickets of Dreamforce event will be available soon.