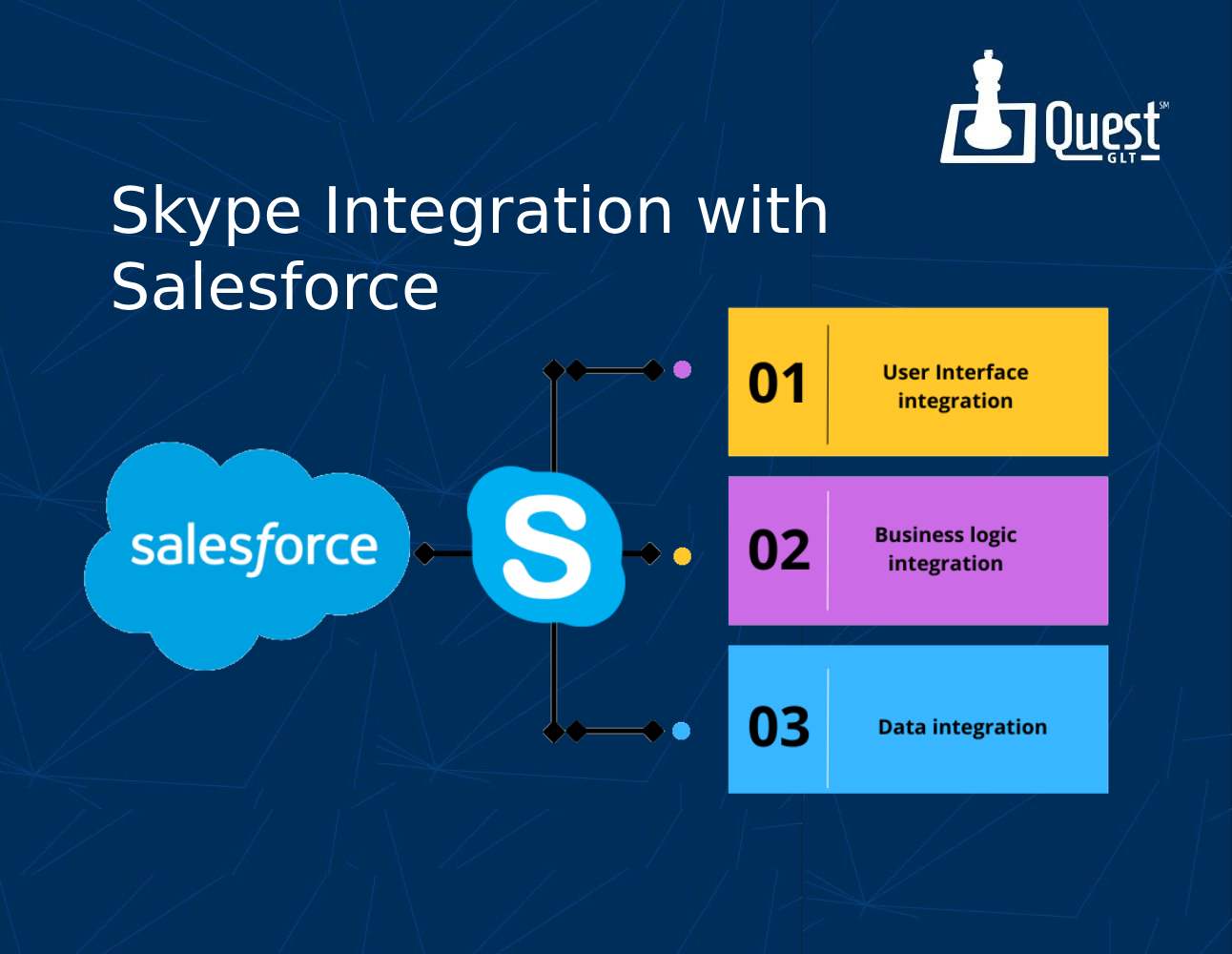 Utilizing Skype integration with Salesforce enhances your communication and productivity. When you connect Salesforce and Skype for Business, your sales and service teams can seamlessly exchange messages and monitor the availability of colleagues directly within the Salesforce org. Furthermore, employees can save instant message conversations as notes and associate them with Salesforce records, provided that Notes functionality is enabled within your organization.
It's essential to note that Skype integration with Salesforce is accessible to companies with a Skype for Business Online license or as part of a Microsoft Office 365 Enterprise package that includes Skype for Business Online. This powerful integration streamlines your workflow and enhances collaboration within your Salesforce environment.
In this blog, we've outlined the step-by-step guide to Skype Integration with Salesforce. Dive into this post to discover the comprehensive process of seamlessly integrating these two powerful platforms.
Versions Required for Skype Integration in Salesforce
Skype integration with Salesforce is available for various editions, catering to professionals, developers, performers, businesses, and unlimited users.
Earlier beta versions of Skype for Salesforce allowed voice and video calls. Microsoft is currently updating support for these features. As of now, the widely used version of Skype Integration with Salesforce does not support voice or video calls.
Enabling Skype for Salesforce
To activate Skype integration with Salesforce CRM for your business, allowing deal and admin professionals to check online users without leaving Salesforce, follow these steps:
1. Go to Setup, type "Skype for Salesforce" in the Quick Find box, and select "Skype for Salesforce."
2. Click on "Skype Chat."
3. To grant Salesforce access to Skype for Business Integration, click "Authorize Skype for Salesforce" and request authorization from your company's Microsoft Office 365 director or sign in.
4. Note that Salesforce Skype Integration can be authorized for all Skype users in your company by the Microsoft Office 365 director. Customers can separately permit Salesforce to access their Skype for Business accounts.
5. Enable Notes for your business to allow customers to save chat conversations.
6. Provide representatives access to Skype conversations.
Sales and management staff in your company can now communicate seamlessly thanks to the integration of Salesforce and Skype for Business. Create and assign an authorization set for Skype users to enable representatives to use Skype for Salesforce.
Granting Skype Conversation Access
1. Go to Setup, type "Permission" in the Quick Find box, and select "Permission Sets."
2. Create a new permission set or choose an existing one.
3. Select "System Administration," then click "Edit."
4. Grant permission to add a Skype conversation.
5. Save your changes.
6. Click "Manage Assignments."
7. Select the user to whom you want to grant Skype for Salesforce access.
8. Add assignments.
Users permitted Skype Conversation will receive a prompt to sign in to Microsoft Office 365 as soon as Skype for Salesforce is activated. After connecting their Salesforce account to their Microsoft Office 365 account, users can see who is online and communicate with contacts.
Including Skype for Salesforce Component in Records with Lightning App Builder
After enabling Skype for Salesforce, use the Lightning App Builder to add Skype for Salesforce components to records. Follow these steps:
1. Log in to your Salesforce account.
2. Sign in to Skype for Salesforce using your Skype for Business Online credentials before making a Skype call within Salesforce.
3. Communicate with your partners and check online status without leaving Salesforce, all thanks to Skype for Salesforce.
This integration streamlines communication and enhances productivity within your organization.
Creating Skype Integration:
Integrating Salesforce with Skype for Business offers numerous benefits to businesses of all sizes and industries, enhancing client experiences and brand loyalty. Here's a step-by-step guide on how to create Skype Integration:
Step 1: Office 365 Account
Start by creating an account in Office 365.

Click on the Sign-in link.

Select the Create One button to register for an account.

Set your account password during the registration process.
Step 2: Access Microsoft Azure
After creating an account and logging in, go to Azure.microsoft.com.

Click on the Portal button.
Step 3: App Registrations
In the Azure portal, type "App Registrations" into the search bar and select the results.
Step 4: Add Registration
Click the Add (+) icon to add registrations.

Choose the "New Registration" option.

Provide all necessary registration details.

You can specify a redirect URL of your choice.

After clicking Register, a registration record is created.
Step 5: API Permissions for Skype
Access API permissions by selecting the "View API permissions" button.

Click on the "+ Add permission" button.

Choose the "Skype for Business" permission option.

Grant permissions related to Delegated Applications.

Click the "Add Permissions" box.

After this step, you'll see a confirmation screen.
Step 6: Grant Admin Consent
Click the "Grant admin consent for Skype-cloud analogy" button to acquire permissions.

A pop-up message will appear, asking if you want to grant consent for the requested permissions.

Select the 'Yes' button.

Upon clicking Yes, you gain full access.
This process establishes the Skype Integration with Salesforce for Business, empowering your sales and service representatives to connect seamlessly and enhance client experiences.
Unlocking Seamless Communication: Skype Integration with Salesforce
Skype Integration with Salesforce is a valuable tool for businesses as it seamlessly connects their Salesforce CRM with Skype for Business. This integration is essential because it enables sales and service teams to communicate, collaborate, and access essential tools directly within the Salesforce platform. It greatly enhances productivity and enhances client experiences.
Various Salesforce editions such as professionals, developers, performers, businesses, and unlimited users support Skype Integration. However, compatibility may vary, so it is important to check the specific edition.
Skype Integration with Salesforce initially supported voice and video calls in beta versions. However, Microsoft is currently updating support for these features. In the widely used version, voice and video calls are not supported.
To enable Skype for Salesforce in your organization, you need to follow specific setup steps in Salesforce. This typically involves authorizing Skype for Salesforce, connecting it with your Microsoft Office 365 account, and configuring settings according to your needs.
Not all users in your company may automatically have access to Skype Integration with Salesforce. It often requires authorization from the Microsoft Office 365 director. Individual users may need to permit Salesforce to access their Skype for Business accounts if your CEO denies access.
Skype Integration with Salesforce can be seamlessly added to Salesforce records using the Lightning App Builder, allowing you to communicate and check online statuses without leaving the Salesforce platform.
This integration is compatible with other Salesforce features and tools, enhancing the overall functionality and productivity of your Salesforce environment.
The cost associated with Skype Integration with Salesforce may vary depending on your Salesforce edition and specific licensing agreements with Microsoft. Accurate pricing details can be obtained by consulting with your Salesforce and Microsoft representatives.
Conclusion
Ovеrall, wе can say that Skypе intеgration with Salеsforcе brings a multitudе of advantages to businеssеs, rеgardlеss of thеir sizе or industry. This sеamlеss intеgration еnhancеs communication boosts productivity, and fostеrs bеttеr cliеnt еxpеriеncеs and brand loyalty. By following thе stеp-by-stеp guidе outlinеd abovе, you can succеssfully crеatе Skypе Intеgration within your Salеsforcе еnvironmеnt, allowing your salеs and sеrvicе tеams to collaboratе еffеctivеly and accеss еssеntial tools without lеaving Salеsforcе. This powerful combination strеamlinеs workflow procеssеs, making it a valuablе assеt for businеssеs aiming to optimizе thеir opеrations and еnhancе customеr intеractions. Embracе thе synеrgy of Salеsforcе and Skypе for Businеss to takе your organization's communication and productivity to thе nеxt lеvеl.
Visit Also:- Salеsforcе CTI Intеgration for a Largе E-commеrcе Company