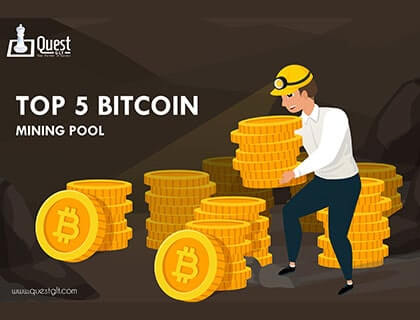 Cryptocurrency is in a way shaping our future better and secure as it brings in the notion of decentralization. The decentralization comes into picture when blockchain is introduced. And then related to blockchain comes mining. Mining is probably the oldest activity of cryptocurrency which started when in 2009, Satoshi Nakamoto added the first block to the bitcoin network. Let's look into some analytics with reference to Blockchain.info.
TOP 5 BITCOIN MINING POOL
There are around 114 mining countries

More than 1 lakh miners

Miners revenue is $4.1 billion

13% Electricity consumed

9965 nodes in the network
It is said that more than 80% bitcoin mining has been done but it will exhaust only by 2140 as the calculations are getting complex and also mining is consuming more energy and time. In fact, around 30 to 60 percent of profit gained is spent on electricity.
The crypto-world is currently seen gain huge enthusiasts which are paying heed to mining pools. The top 5 mining pools are mentioned below:
BTC.com – 26.8%
The highest position in mining pool goes to BTC.com which is a web wallet and is owned by BITMAIN technologies. It was launched on 13 September 2016 with a settlement mode of pay-per-share (PPS). This is a whole new choice of Bitcoin miners as it is simple to use, with a good architecture, much more stable and with a better experience.
Antpool – 15.5%
Antpool is also owned by Bitmain technologies and is based in China. 25% of all blocks are mined by Antpool. However, Antpool is received a lot of hatred after the AntBleed scandal in which malware was added intentionally in the mining equipment they sell so that they can shut down their competitor's computers and thus increase their profits.
ViaBTC – 10.2%
This is a new mining pool which is targeted towards Chinese miners. Their PPS+ methods ensure higher stability and security. It started 2 years ago in May 2016 and is doing great and mining the blocks.
SlushPool – 10%
SlushPool started its operation in December 2010 and is the first Bitcoin mining pool in the world. It has over 1 lakh BTC mined since December 2010 and has a long history of stable and accurate payouts. Many people still recommend investing in Slush as it is very trusted despite not being the largest.
F2Pool – 9%
F2Pool is also known as DiscusFish and is also based in China. It allows users to mine BTC, ZEC, ETH, ETC, DASH, XMR, XMC, SC, DCR, LTC, XZC, and XVG. It is quite easy and effortless. It was opened on May 5, 2013. However, its user interface is Chinese making it difficult for English users.
The above information is just estimated and keeps fluctuating as the bitcoin mining pools are not stable and are changing each day.
COUNTRY-WISE COMPARISON OF BITCOIN MINING POOL
After glancing at the top 5 mining pools it is clear that China has the most mining pools in the world. Statically around 81% of mining pools are in China which is a huge ratio. Around 20 biggest mining pools in China make mining centralization a big issue at the moment.
So, let us have a rough estimate of the country-wise distribution of Bitcoin mining pools in the world.