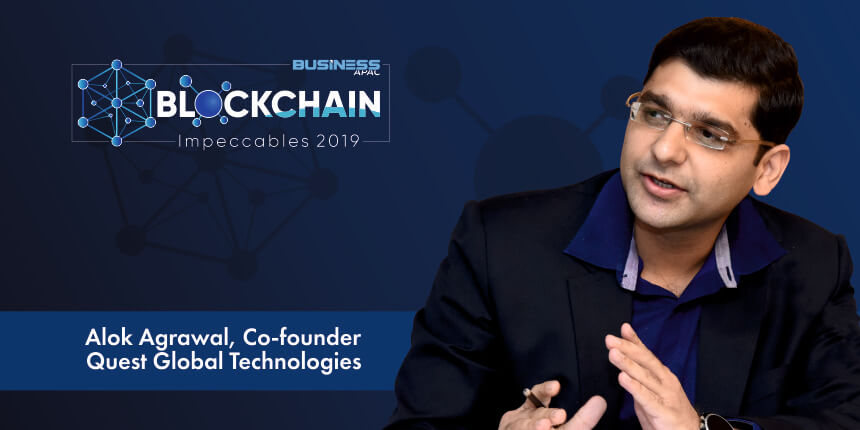 When the thought of blockchain technology comes in mind, one can say that it is one of the most impactful innovations of this century. Whenever we think of it, we think of cryptocurrencies, and primarily bitcoin. However, that belief is changing at a rapid rate because the technology is expanding. The decentralization and transparency that comes along with the blockchain technology have the potential to shake numerous industries to their very core. Like a growing tree with various branches going in multiple directions, blockchain technology is getting developed by leading companies like Quest Global Technologies which has been developing a manifold of blockchain applications and utilizing them to assist its customers. Specifically, the company implements and deploys decentralized custom blockchain application for its customers and also offers an additional after-service support.
Quest Global calls its service offerings as SMAC Technology—Social, Mobile, Analytics, and Cloud. It provides these services to industries such as e-commerce, real estate, education, finance, and healthcare. It is a comprehensive tool that fosters the scope of digital marketing and redefines the IT solutions available in the market which further helps to improve the data management system.
Mission to Offer Maximum ROI on the Foundation of Quality
Co-founded by Alok Agrawal with a mission to provide high-quality automation solutions for enterprises with maximum ROI, Quest Global helps customers to create sustainable differentiation and helps clients to stay ahead of the competition. According to Alok, doing business in APAC countries is like working with different cultures and diversities which further brings more opportunities to the businesses. Companies in the region are competing aggressively in a diverse culture and working on shorter product cycles, customized solutions for local customers, and are offering several products to attract customers. Alok knew that customers need quality over quantity and the products that offer them a higher ROI will be their first preference. Thus, he worked towards that goal and established Quest Global Technologies to cater to the essential needs of clients including higher ROI, automation, and most importantly—"Quality".
Empowering Automation with the Power of Blockchain
"Being in a developing country, there are numerous inefficiencies in the system which hampers growth and corruption is also rampant," shares Alok. To resolve the shortfalls in the system, the Co-founder and MD of Quest Global Technologies wanted to do something that can positively impact the world around him. Thus, Alok decided to pick the technology field and analyzed the market after graduation. To get hands-on expertise, he took a job at HSBC. During his tenure abroad as an onsite coordinator, Alok implemented automation and saved 208 man-days in the work. Similarly, while working with UHG, he smartly saved USD 780,000 for that organization.
While working with different organizations, Alok's drive towards implementing automation was on the verge of innovation. He wanted to remove the middleman from the system. His efforts came into effect when he found blockchain technology that could enable automation and eliminate the lengthy processes. Alok shares, "One of Asia's deterrents to growth—corruption would also be solved to a great extent with the help of blockchain." Thus, harnessing the power of blockchain, Alok and the team have helped several institutions in the Philippines, Australia, Singapore, Malaysia, and India to automate their processes and reduce operational costs. Today, in addition to blockchain development, Alok and the team also offer essential IT solutions including Ingestion framework (Big data, Hadoop, SCALA), Customized ERP/CRM, Cloud/Mobility Solutions, Salesforce Development, and E-commerce end to end development. These solutions are specifically focused on automating the workflow of enterprises, thereby saving big on investments.
Catering to Clients' Demands with Blockchain and Leading Technologies
To fulfill clients' requirements, Quest Global Technologies works as a business partner with its customers as it helps the team to closely understand the customers' demands. For instance, Quest Global has been involved in the creation of a wallet for one of its clients named—DDK Top Management to support DDK, DNC, ETH, BTC, etc. Apart from that, the company is responsible for a complete audit of the code of the DDK Blockchain, DDK Website, Staking and Voting process of DDK. Similarly, Quest Global has implemented POA-based customer blockchain for Rowan Energy Club that facilitated peer to peer energy trading.
To empower their clients in every way possible, Alok and his team are also leveraging leading smart technologies like AI, ML. They have developed a sales app called Whizleads that utilize ML and AI to analyze personalities, moods, and values and creates quick profiles of leads and customers.
Worldwide Expansion Plans while Exploring Synergies Globally
Moving ahead with a shield of blockchain, customized ERP solutions, and powerful IT services, Quest Global Technologies is now striving to gain expertise on Enterprise data Lake solutions. Alok shares, "Our aim is to grow the company 10 times in the next three years by providing cutting edge innovative solutions to our clients. We would continue to explore synergies globally and build marketing channels across the globe to propel our clientele." The company has already opened its subsidiaries in the USA and Canada and successfully acquired a stake in an Australian Analytics Company Alok and his team's mission to expand worldwide is encouraging them to work extra hard and offer exceptional services to their clients. In the coming days, Quest Global plans to open offices in Europe, the Middle East, and Singapore while improving the service delivery and quality of its solutions.