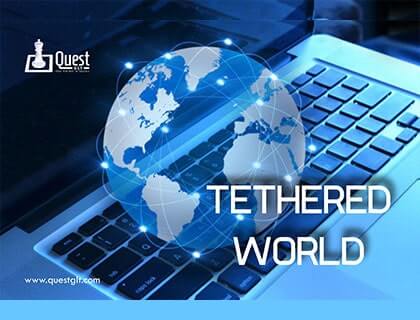 We cannot imagine a day without our phones. It may be the mobile applications,mails or any of the searches which keep us rooted to the phone.
The Tethered World
Apps are faster, providing online and offline access. Push notifications, play a key role in apps providing the users with latest news and remainders. Thus apps have become popular. Quest Global Technologies (Quest GLT) too offers its best services to the customers through apps.
There are motivational apps, educational apps, business management apps, shopping apps and many more. Learning is a continuous process and has shifted its focus to e-learning. Catalyser ELearning App and Catalyser Doubt Solving App have made the learning process fun and easy. With high-speed availability of internet across the nation, now the best education is accessible to students in rural areas too. Catalyser app containing the educational videos, quizzes and contents from the best faculties in India, is making students clear JEE with ease.
Quest Global Technologies has designed the app in a manner that the entire activity of learning becomes a fun for the students. Motivational apps like Ujjwal Patni Android and IPhone apps can inspire and motivate people around the globe. If you want a successful person in life, download this app. This is an app which is TOP downloaded app in its category having around a million downloads with 4.5 rating out of 5. This shows the scalability, trust and performance of the apps developed by Quest Global Technologies. E-commerce has taken a spin with apps like Cherry Red Boutique, Red and White Boutiqe,Shop Pocket Friendly Android app,etc. Whizleads IPhone and Alphanordic IPhone are business management applications to increase the sales and accessibility of the customers. Whizleads is a very intelligent Sales App that predicts your sales leads behavior by his activity on the various social media platforms. The app smartly uses IBM Watson API and LinkedIn APIs that only a few developers across the world have been able to integrate successfully.Thus these apps have definitely boosted the performance of their clients .
HH.Kantime Health.Net
In the early years of the new millennium, Sundar Kannan recognized a huge gap in the home health market. As his business partner's mother complained about unreliable caregivers who failed to meet her requests despite his frequent visits with her, he struggled to listen. Using the technology he had already built, KanTime Telephony, he thought he could simplify the agency process and simplify scheduling.
HH.Kantime Health.Net - Login
You can easily access "https //hh.kantime.net Login" at these pages. You will be directed to "KanTime - Login" pages where you can enter your information and gain instant access to your account.