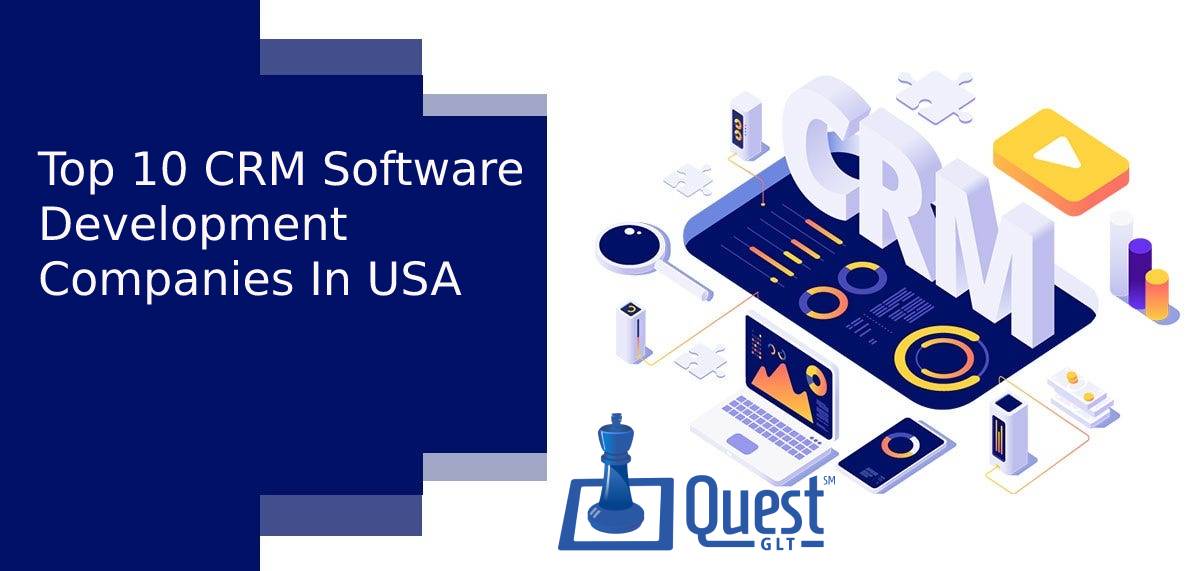 No matter the size or scale of your operations, customers are the most critical factor to your business. Companies today clearly understand this statement as they prioritize customer engagement and interaction to stay ahead of their competitors and achieve business goals.
Customer Relationship Management
Hence, almost every company today relies on CRM or Customer Relationship Management solutions. An effective CRM integrated into their operations enables business owners to stay afoot with customer engagement and better serve and understand the customers.
However, being a business owner, you can't simply go with any CRM solution present in the market. Instead, it begins by selecting the right software development company to help you customize and integrate the right CRM solution that aligns with your operations and boosts your revenue.
This blog lists the top 10 CRM software development companies in the USA that you could hire. So continue reading as we look at the top companies that could help you connect the dots between customers and sales.
Top CRM Software Development Companies In San Diego USA
#1 Quytech
Add: 340 S Lemon Ave #5254 Walnut, CA 91789, USA
Contact: +1-213 493 2650
Starting our list of the top CRM software development companies in the USA is Quytech. The business specializes in creating unique CRM software solutions tailored to align with companies of any scale or size. Quytech has earned recognition by developing several distinctive, cutting-edge AI, Android, iOS, and AR apps.
The organization's core focus is to help businesses improve sales cycles via increased productivity and the opportunity to streamline their operations. What's more? Quytech is also top-notch in sales CRM and services CRM solutions. Apart from its head office in the USA, Quytech also has offices in UK and India.
#2 Algowork
Add: Algoworks Solutions Inc. 355 W Olive Ave #204 Sunnyvale CA 94086
Contact: +1-877-284-1028
Following Quytech is Algowork. This award-winning Technology company has marked its presence in the CRM sector for over a few years. Similar to its previous option, Algowork is situated in the US and provides services at a global scale.
Algowork partners with leading CRM solutions like AWS, Microsoft, and Salesforce. As one of the reputed CRM development companies in the USA, Algowork has over 500+ CRM applications that it created and deployed for numerous Fortune 500 organizations, startups, and other businesses of varying sizes.
#3 Techasoft
Contact: +1 610 880 0144
Next, we have one of the USA's most rapidly expanding CRM development firms, Techasoft. The company has earned its name by providing high-end CRM solutions that have assisted numerous organizations in improving their business potential and output.
Techasoft's vast forte expands around several companies, ranging from healthcare to tourism and food services. The organization is backed by experts collaborating with clients to develop and deploy top-notch services. What's more? Apart from CRM services, you can also collaborate with Techasoft for web development, digital marketing, and web design.
#4 A3Logics
Add: Suite 300 - 5857 Owens Ave.Carlsbad, CA-92008
Contact: +1 510 726 8978
When talking of the top CRM software development companies, you cannot miss out on A3Logics, another American software development company with a solid reputation in the CRM sector. In addition, the organization is backed by a group of experts that can examine your company's needs and integrate the right solution for your operations.
The primary aim of A3Logics is to develop business solutions that help maximize their output. With A3Logics managing your CRM development, you can rest assured that your sales, support, and manufacturing teams can easily collaborate and strive toward customer satisfaction.
#5 Elinext
Add: 6800 Jericho Tpke Ste 120W, Syosset, New York, 11791
Contact: +1 516 447 0268
Web development and mobile app development are two of Elinext's USPs. The company has earned its name by providing testing and quality assurance services. Additionally, their wide clientele has allowed them to be among the top American businesses for CRM development and deployment.
Elinext primarily caters to medium and large-sized businesses in the finance, insurance, banking, healthcare, and retail industries. What's more? Apart from its expertise in dealing with several CRM tools, the organization excels at developing CRM solutions within a given budget and timeline.
#6 Ascendix
Add: Ascendix Corporate Office 12222 Merit Drive Suite 1760 Dallas, Texas 75251
Contact: +1 972 889 8090
Sixth on our list is Ascendix. This established CRM software development company caters to a wide range of audience. As a development company, Ascendix offers onshore and offshore development models to its customers. The organization does this to optimize its products and the cost associated with the process.
As a development company, Ascendix is known to work with great dedication toward its clients and has an impressive portfolio that backs its services. Once signed up, you can access innovative customization ideas across all major software like SAP, Salesforce, and AWS.
#7 Endive
Contact: enquiry@endivesoftware.com
Next on our list of top companies is Endive, another leading American company that deals in a customized CRM approach. The company has created and deployed several original apps and software to date.
The company is backed by a wide network of certified experts that consult and design the best CRM software to match your needs. Once signed up, you can expect smooth services that revolve around your operations, emphasizing the complete success of your business. As a company, Endive focuses on delivering the best CRM solutions for organizations of every scale and niche.
#8 Taction Software
Add: 1016 W. Jackson Boulevard, Chicago, IL 60607, USA
Contact: +1 773 546 9501
Eighth on our list of CRM development companies is Taction Software, which focuses on developing feature-rich custom software services. The company tends to understand the nature of your operations, analyze your needs, and develop a solution that helps amplify your operations.
The company delivers end-to-end expertise, from designing to implementing your custom CRM software. In addition, they are known to adapt the best practices for CRM development, allowing them to stand out from other companies in the country.
#9 Fortunesoft
Add: Downtown Sunnyvale 640 W. California Avenue, Suite 210, San Francisco, CA 94086, USA
Contact: +1 615 298 7395
Following Taction Software, we have Fortunesoft, another CRM development company that provides specialized services to businesses of every scale. As a company, Fortunesoft strives to connect and communicate with its clients to help them deliver cutting-edge CRM for their operations.
You can also connect with them to analyze and manage client data via their committed team of data specialists. Overall, signing up with Fortunesoft gives your organization a unique edge for your operations.
Add: 3945 Grandview Vista Street, Cumming Georgia 30028
Contact: +1 (276) 477-4551
Concluding our list of the top 10 CRM development companies in the USA is Quest GLT, a budding organization that specializes in delivering cutting-edge solutions to clients globally. As a company, Quest GLT specializes in leveraging leading CRM tools for the operations of its clients.
However, besides being your CRM development partner, the organization also delivers Blockchain development, design creativity, and automation testing. Overall, Quest GLT is your stop for accessing a customized CRM tool to match your operations' pace.
Conclusion
This brings us to the end of our list of the USA's top 10 CRM software Salesforce development companies in USA. All the companies listed in the sections above are your best option for designing and deploying CRM software that adds to your operations. However, while you're at it, remember the market is filled with options, and the curated list comprises only a few options. Therefore, ensure that you research well before signing up for any company. All the best!