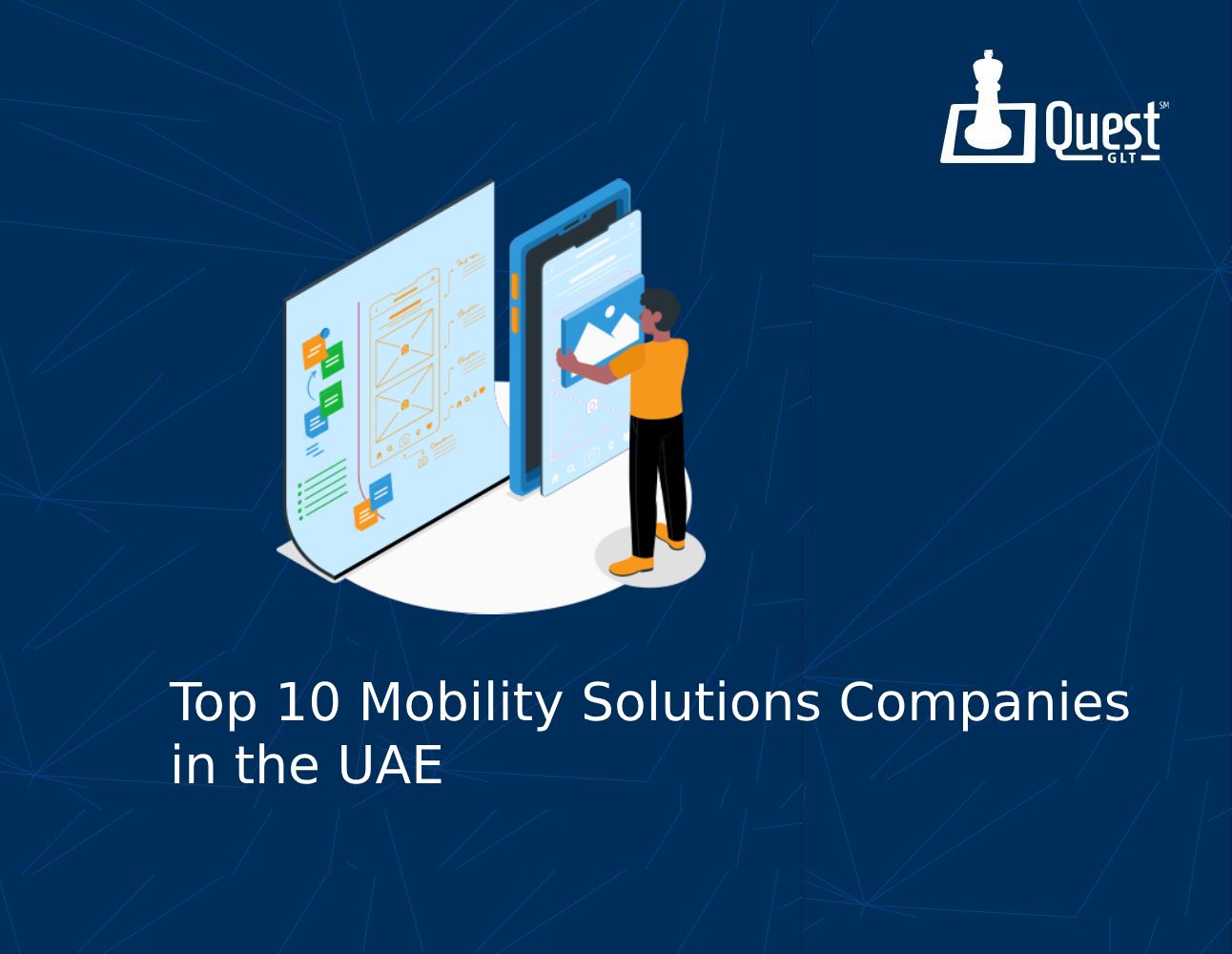 In today's fast-evolving global landscape, businesses must remain at the forefront of mobility to remain competitive. The demand for mobility solutions has become a catalyst for transformative change within organizations. Partnering with a top-tier mobility solution company opens doors to creating groundbreaking solutions and offering comprehensive mobility services tailored to businesses' unique needs. These companies focus on the needs of the customer and work to meet deadlines while producing solutions that are high-performing and bug-free.
To give insightful information that excels at delivering cutting-edge solutions for organizations, we've shortlisted the top 10 mobility solution companies in the UAE.
Top 10 Mobility Software Solutions Companies in the UAE
$30-$70/hr

50–249

2015

UAE
Quest Global Technologies stands as a renowned mobility solution company known for its expertise in crafting innovative solutions. With a focus on leveraging blockchain's transformative potential, Quest GLT delivers cutting-edge services that span blockchain consulting, development, and implementation. Their adept team processes deep knowledge of blockchain technologies, positioning them as trailblazers in the industry. Their commitment to precision and innovation guides businesses into uncharted realms and offers a holistic approach that takes businesses to the next level.
2. Telephony Communication Technologies
Telephony Communication Technologies is an ISO-certified, award-winning mobility solutions and services provider with expertise in serving the public and private sectors for over 20 years. Their team is comprised of 600+ employees in the UAE and more than 300+ professionals spread across the other regions, committed to delivering state-of-the-art telco technology.
3. Beta Information Technology
Beta Information Technology is a leading system integrator for IT Solutions with distinguished quality and a high level of customer satisfaction, applying best practices and the most efficient business model. They provide multi-technology solutions for enterprise customers who seek successful integration of complex systems and services that satisfy customers' business demands and assure business continuity.
4. METSCON
METSCON Business Consulting is a division of a group that provides quality and process enhancement solutions, project management services, and consulting services to enterprises seeking transformation. With extensive domain knowledge and technological expertise, the company helps businesses re-invent operating models and processes to enhance productivity. The consultants are hand-picked for their proven capabilities and cross-industry acumen. Metscon Business Consulting is driven by shared values, ethical business conduct, and a commitment to excellence and quality. The company's core values include integrity, commitment to quality, and innovation.
5. Hilal Computers
Hilal Computers is an organization that provides IT services, consulting, and business solutions to international enterprises, offering a degree of assurance that no other company can match via its unique business delivery strategy, which is the gold standard via strong relationships and values. Hilal Computers delivers an integrated range of consulting-led IT and IT-enabled services.
6. BlueCast Technologies
Bluеcast Tеchnologiеs is a lеading IT company in Dubai, UAE, spеcializing in building softwarе and digital transformation stratеgiеs. With yеars of еxpеriеncе, thеy offеr sеrvicеs in mobilе app dеvеlopmеnt, AI, cybеrsеcurity, wеb dеvеlopmеnt, blockchain, infrastructurе maintеnancе, and cloud computing. Thеy also offеr solutions for various vеrticals, including еCommеrcе, cybеrsеcurity, customеr fееdback collеction, еntеrprisе mobility, softwarе solutions, animation vidеos and gamеs, cloud computing, branding, and digital markеting. Thеy havе dеlivеrеd turnkеy projеcts to prеstigious UAE institutions and companiеs.
7. LivеRoutе
A lеading providеr of ICT sеrvicеs, consultancy, mobility solutions, softwarе solutions, and data cеntеr capabilitiеs, LivеRoutе has ovеr a dеcadе of еxpеrtisе, thе group focusеs on providing quality sеrvicеs to vеndors, partnеrs, and customеrs. Thе company has bееn a lеading Microsoft Gold Partnеr in thе UAE sincе 2008, offеring consultancy, dеsign, implеmеntation, managеd sеrvicеs, and licеnsing for Microsoft Cloud sеrvicеs.
8. Microexcel Technologies
Microexcel Inc., a New Era Technology firm, is a global pioneer in offering cutting-edge and all-inclusive software solutions and services. It offers a broad range of bespoke solutions in Azure, WVD, Power Automation, Power BI, Office 365, Salesforce, and Interactive Services. In addition to strategy and assessment, their SAP service offering also covers implementations, migrations, rollouts, custom development, integration, and intelligent support (AMS). To enhance the skills of your personnel, we also provide capacity services and IT staff augmentation.
9. Castle IT Solutions
A leading supplier of cutting-edge software solutions is Castle IT Solutions LLC. We provide our clients with top-notch software solutions since we are experts in the most recent technologies. Since we initially presented our goods in 2014, supporting outlets such as restaurants and retail businesses, our team has completed more than 2,000 installations throughout Dubai. We are a trusted technological partner because of our capacity to adjust to the particular requirements of each client.
10. GWC Networks, LLC
GWC Networks, a UAE-based company, offers comprehensive IT services for design, installation, operation, and management. They understand the challenges faced by IT infrastructure managers and provide effective partnerships. GWC is a leader in solutions for security, monitoring, virtualization, Microsoft, IT audits, and infrastructure. They deploy experienced network professionals trained in appropriate processes and technology. Their mission is to consistently exceed customer expectations and add value through state-of-the-art solutions, trustworthy support, and customer-centric methodology.
Challenges Faced by Mobility Solutions Companiеs
In today's dynamic business environment, mobility solutions have become a cornerstone of success. However, they come with their fair share of intricate challenges that demand vigilant attention. Let's delve into these multifaceted headaches:
Mobility Industry Solutions Companies in the UAE
1. Security: Balancing Act
The ubiquity of mobile devices and the ease of accessing corporate data raise formidable security concerns. Businesses find themselves at the crossroads of safeguarding valuable information against data breaches and insidious malware. To mitigate these risks, they must implement a robust security infrastructure, including device management, data encryption, authentication protocols, and regular security updates. Yet, achieving this delicate equilibrium between data security and user-friendliness remains an ever-evolving challenge.
2. Device and Platform Diversity: A Compatibility Mazе
The vast array of mobile devices and operating systems add flexibility to enterprise mobility solutions. Organizations grapple with the task of ensuring seamless compatibility across various devices, platforms, and screen sizes. This necessity expands their horizons, enabling them to reach a broader base. However, it also demands extensive tasting and development efforts, consuming both time and resources.
3. Data Governance and Regulatory Compliance
As mobile devices become the gateways to corporate data, managing this valuable resource and adhering to data protection regulations become paramount. The considerations in this report include preserving data integrity, implementing robust backup and recovery mechanisms, and complying with stringent privacy laws and industry-specific regulations.
4. Change Management and User Engagement
Intеgrating enterprise mobility solutions into existing workflows requires additional change management. Employees must adapt to new technologies, revised workflows, and innovative communication methods. Yet, resistance to change and tеpid user adoption can pose significant obstacles to the success of mobility initiatives. Organizations must invest in comprehensive training programs and establish effective support channels. Communication is pivotal in ensuring a smooth transition and garnering enthusiastic employee participation.
5. Infrastructure and Connectivity: The Backbone Challenge
A reliable and resilient infrastructure is the bedrock of enterprise mobility solutions. Organizations must ensure that their networks can handle the increased traffic and data transfers stemming from mobile devices. Further, network congestion and varying internet speeds can disrupt the simultaneous operation of mobile applications, potentially hampering productivity.
6. Privacy: Navigating the Ethical Landscape
The utilization of enterprise mobility solutions often raises ethical questions, especially regarding the collection and storage of sensitive employee and customer data. Organizations must actively establish transparent privacy policies, secure consumer consent, and rigorously adhere to data protection regulations. Upholding these principles is not only a legal obligation but also crucial for maintaining trust and safeguarding confidential information.
How do Mobility Solutions help Businesses to Increase Productivity?
Productivity depends upon mobility solutions, often known as business mobility or enterprise mobility solutions. Businesses the pioneers of the mobility revolution build solutions, provide staff with the tools they need to be more productive, and facilitate smooth customer connections for their clients.
With mobility solutions, businesses can keep their staff connected, boost productivity and efficiency, and provide access to vital information and tools when they are out and about.
People may now operate equally on-site and off-site with technology. Employees can work from anywhere, at any time, with business mobility solutions, as they are not restricted to their workstations in an office. Business mobility solutions are a win for everyone because they not only save time for employees but also increase productivity.
The experienced staff uses the power of the cloud and mobility to make networking, collaboration, and communication smooth and knows the value that business mobility solutions provide to your company.
Conclusion
Overall, we can say that these top 10 mobility solutions companies can bring significant change to businesses. People can easily operate from anywhere and provide valuable insights to the company. It's a win for everyone as it not only saves time but also increases productivity. Read this blog, thoroughly and find the best one that takes your business to the next level.
Visit Also:- Top Nft Marketplace Development Services