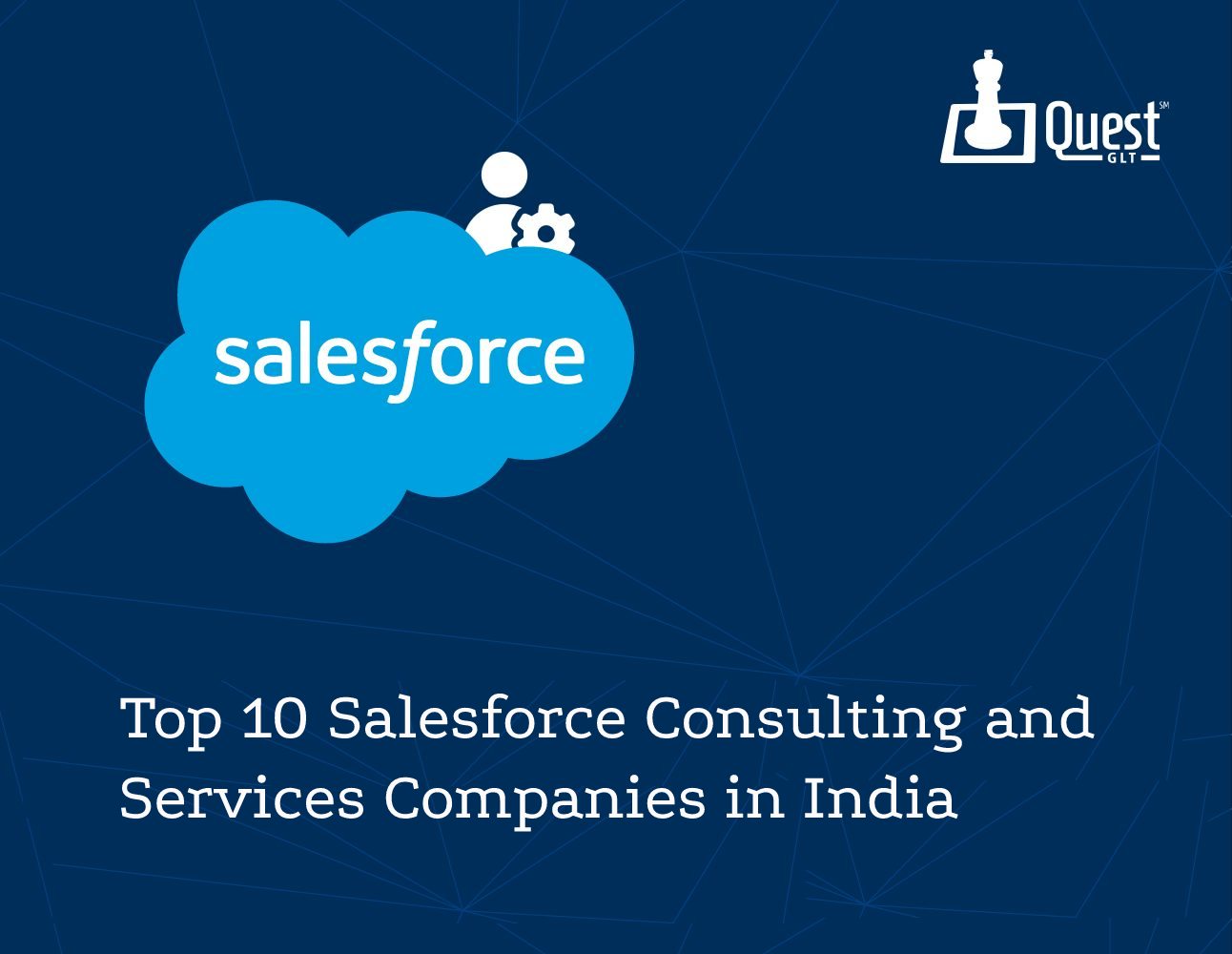 Whether it is a high-ranked company or a small-scale business organization, Salesforce consulting and services are the prime requirements of them. Several companies are covering every exclusive service feature of the Salesforce platform and making the best CRM accessible for business groups. But some trustworthy companies have made their place in the list of Top 10 Salesforce Consulting and Services Companies in India.
As India is rapidly becoming home to numerous Salesforce companies, it may be hard to find the most suitable one for your unique business organization. Here is the significant help for you to find your ideal partner in the form of the list of the Top 10 Salesforce Consulting and Service Companies in India.
Top 10 Salesforce Consulting and Service Companies in India.
1. Hyperlink InfoSystem -
Cost Per Developer: < $25 / hr
Number of Employees: 250 - 500
Ahmedabad, Gujarat india
When you talk about the top-rated and most chosen Salesforce Consultant and Service company in India, Hyperlink InfoSystem outpaces all the other similar service-providing brands. Established in the year 2011 and commenced delivering its services as a mobile app developing company, is now recognized for planning, designing and implementing all kinds of Salesforce software solutions to the CRM. Top services like AI, IoT, Big Data, AR/VR, Metaverse and Blockchain are some key features of Hyperlink InfoSystem's services. Now the company has gained experience for more than 10 years and has worked with 2700+ high-level clients providing them with a customized tech solution that assures the 360° growth of businesses.
2. IBM -
Min. project size
$5,000+
$50 - $99 / hr
250 - 2000
Bangalore, India
With advanced service features like Salesforce Einstein and IBM Watson, this Salesforce service and consulting group is ready to transform your business. These features make the companies aware of the potential of their data available across the Salesforce Clouds. Apart from the sales cloud, IBM delivers promising services related to the marketing and service cloud, customer service and commerce. A team of more than 200 certified Salesforce experts of IBM has helped several enterprise-level businesses to meet their demands and achieve pre-determined goals through Salesforce consultation and service solutions.
3. Accenture -
$1,000+
$25 - $30 / hr
500 - 2000
Bangalore, India
If you are looking for a Salesforce partner who is adept at creating, cultivating and growing technological skills through the best utilization of the Salesforce technological solutions, Accenture is the best option with which you can proceed further. The workforce of Accenture holds a record of completing 1529 salesforce projects regarding the diverse needs of the business groups and their valuable customers. It exceeds the expectation of clients by stimulating the innovative approach to the conventional method of solving Salesforce-related issues. It leads the success paths of several businesses as an international Salesforce partner and helps them in meeting specific requirements through custom solutions.
Through agile software services and the right guidance in the Salesforce field, Quest Global Technologies has attained the 4th position in the list of India's leading Salesforce consulting and service companies in a quite short span. Established in the year 2018, Quest GLT has innovated several cutting-edge solutions for the growth of business organizations by designing the best CRM for them. Salesforce Customer 360 is one of the best and most powerful tech tools created by this Salesforce service organization. We hold professionalism along with proficiency in a plethora of Salesforce-centric service fields like - Integration, financial services, pipeline inspection, consultation, implementation, data migration, managing services and blockchain technology etc. The experience of working in diverse fields such as Real estate, high education, healthcare, hospitality, mechanism, telecom and other professional services make Quest GLT more renowned and reliable for a business group that is looking for the best Salesforce partner. Now it has expanded its services in the USA as well.
5. Marlabs LLC -
Min. project size
$5,000+
$25 - $49 / hr
50 - 249
UP, India
From developing digital solutions for salesforce users to providing training to the teammates of business groups as a consultant, Marlabs LLC helps them in enhancing the growth and revenue of their businesses precisely and quickly. A fine blend of digital innovation and human experience in the form of Digital Collective TM helps the experts of Marlabs LLC in collaborating with several world-class technology networks to provide the best custom solution to the business group that has hired it. Assisting the clients in making maximum use of the CRM platform makes this Salesforce Consulting and Service company popular in India.
6. Deloitte Digital -
Min. project size
$5,000+
$25 - $59 / hr
50 - 300
Bangalore, India
Picked by multiple market vehicles, Deloitte Digital has accumulated a noteworthy experience of working with 6500 sales force consultants in approximately 35 countries including India. This track record certifies that it has aided diverse enterprises in achieving their desired goals. It works based on creativity, technology, data-driven insights and collaboration tools that transform businesses entirely. The expertise of working in consumer products, financial services, energy and industrial resources, government and public sector, life science and health care, technology media and telecom etc make it reliable to hire for several domains of business like sales, marketing, commerce and service clouds etc.
7. Grazitti Interactive -
Min. project size
$5,000+
$25 - $59 / hr
50 - 350
Panchkula, Haryana, India
Developing the right strategy for the CRM platform paves the way for long-term success and Grazitti Interactive is widely recognized for its unique servicing in drawing the layout for the right strategy of Salesforce CRM. The combination of cutting-edge Salesforce technologies & skills and trusted experience, new ideas, and customer services makes Grazitti Interactive the right choice for Salesforce users. The above-given sole idea of this service group changes the sales, marketing, service and commerce cloud of any Business group that seeks the revolutionizing transformation.
8. Cyntexa -
Min. project size
$5,000+
$25 - $49 / hr
50 - 150
jaipur, India
Holding specialization in Salesforce consultancy services, Cyntexa acts in a well-structured way with each business group or enterprise for scaling up its growth. First, it thoroughly examines the past working history of the organization and then suggests consulting courses after organizing an interview. Such CRM courses provided by Cyntexa lays the success path of many enterprises. If you have a look at their sale force consulting and service records, this is worth appreciating. The team of more than 250 Salesforce specialists has worked on more than 400 projects and pleased 350+ clients across the world including India.
9. Webkul -
Min. project size
$5,000+
$25 - $60 / hr
50 - 180
Noida, India
An IT company established in 2010 started leading the industries with its Digital commerce, ERP and CRM service solutions. Renowned Webkul group works diligently in addressing several big and small business issues across the world and assists businesses in implementing the right Salesforce solutions. In the past 13 years, Webkul has played a significant role in serving more than 80,000 clients across the world including India. These clients included small, medium and huge-sized business organizations of various fields like corporate services, enterprises and government or public sector agencies. It can be the best partner for a sales force user in the journey of gaining growth rapidly.
10. Damco Solutions -
Min. project size
$5,000+
$25 - $49 / hr
50 - 350
Haryana, India
Another prominent IT solution and service company - Damco Solutions, is providing cutting-edge solutions to companies to speed up their growth pace. This Salesforce service and consultancy group holds excellency in delivering the best customer value and enormous Business benefits to globally presented clients. The end-to-end service-providing feature of Damco Solutions in consultation and other Salesforce services helps corporations to leverage the technologies, transform their businesses, and achieve long-term growth.
These top 10 companies of Salesforce Consulting and Services can become your best guide and companion to success if you choose them after a thorough assessment of your business requirements and the goals you want to achieve.
What are the benefits of choosing one of the top 10 Salesforce Consulting and Service companies in India?
The right guidance regarding the implementation of Salesforce tools is quite necessary for the overall growth of a business organization or enterprise. Have a look at the advantages one can grab by picking one of the best salesforce companies in India.
The experience and expertise of top salesforce companies help them in planning the right strategy for CRM solutions and then implementing them in a certain period with the least number of issues or glitches. The right consultant will always portray their past work before the clients just to make them assure that they have chosen the right one for their business groups.
Another trait of a top Salesforce service-providing company is primarily focusing on fetching the unique requirement of the business. After that, they design a customized solution for the specific business type with the help of deep analysis and introspection. This requires close working companionship between the client and its salesforce partner.
The expertise of such top salesforce service and consulting companies also helps them to curtail the excess time consumption in completing the projects. The faster delivery of the project with comparatively low risk and cost consumption, exceeds the expectations of clients. It is one of the highly compelling features of working with top Salesforce service and consultation companies.
Providing Salesforce services is not a limited-time task as it requires the consistent support of the companies to their clients. The upgradation of Salesforce solutions or service tools and regular support in training or consultation decides the long-term path of success for the business groups or individual clients.
Staying in the competition is the most essential requirement of every enterprise in this modern tech era. The top companies in the Salesforce community focus on providing a competitive edge to the business groups so that they can outpace the others and stay ahead on the growth curve of the business world. The right Salesforce tools and resources improve customer engagement, increase revenue and drive massive growth. This is all essential for gaining a competitive edge in the market.
These above-given reasons are enough to coerce a business group or a client to choose one of the top 10 Salesforce Consultation and Service Companies if it desires to own a rapidly growing service brand.
Why one should prioritize Quest Global Technologies over the other Salesforce companies to attain the best consultation?
Though Quest GLT is placed at the fourth position in the list of Top 10 Salesforce consulting and service-providing companies, it understands the needs of a small, medium and high-scaled company in the markets better than others. The very professional group of Salesforce experts is present at Quest GLT to assist you in several domains of the widely extended Salesforce field. Salesforce implementation, customization, integration, data migration and ongoing support & training are some key services of this company that make it unique.
The pride of Quest Global Technologies lies in only delivering exceptionally designed services and establishing a long-term connection between the company and its valuable clients.
Which factors decide the right hiring strategy for one of the top 10 Salesforce companies?
Well, all the companies mentioned above are suitable to become a perfect salesforce partner of the enterprises but it is quite puzzling too to pick the best one for you. Here are some factors which can help you in deciding the right salesforce consulting and service company that holds a good rank in the list of Top 10.
Experience in the salesforce service-providing field.
Certificates accumulated by renowned and reputed organizations.
Expertise in the fields as Salesforce is a vast service area.
Reviews of the customers who hired the specific salesforce company for the consultation or other services.
The cost of the services must be according to the quality of the services and products provided by any top salesforce company.
The range of the services covered under one roof of the top sales force service company also describes its worth and chances of hiring.
Wrap Up
In this concluding paragraph of the entire article, it will be right to advise you that Salesforce consultation and services companies are quite essential for the business groups to add significant value to their core ideas and goals. An even more important part is choosing the top-rated company for meeting your business's goals.
Though several benefits of choosing them are already discussed in the above paragraphs, the part where you focus the most is, these companies put their efforts into landing your business at the most demanding destination with the help of the right salesforce tools and quite deep consultation.