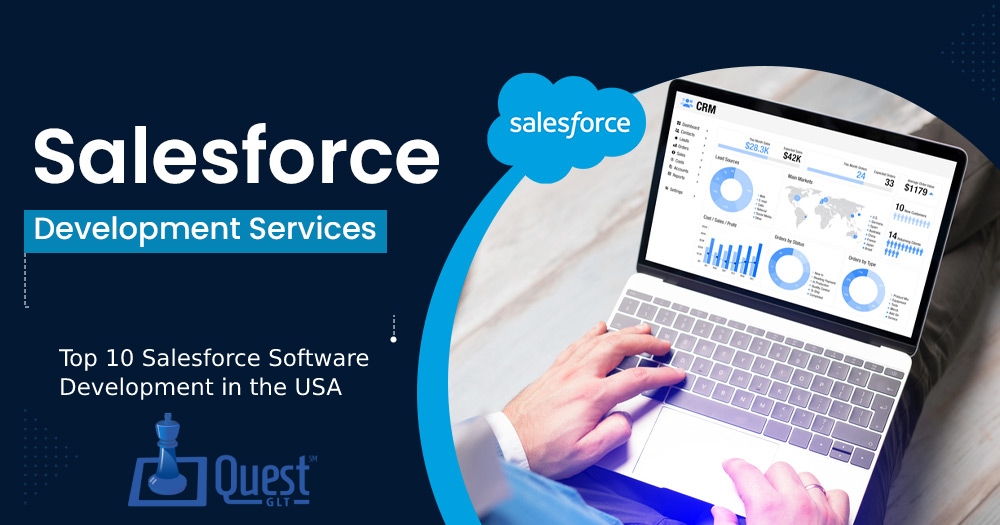 The growing popularity of Salesforce and the expansion of the associated constant ecosystem has generated nearly 6000 Salesforce developers in the USA. Some of them act as a Salesforce consultancy organization and the rest are freelancers in this rapidly widening field.
Salesforce Development companies require the depth knowledge of this particular domain for helping businesses in evolving and excelling. Hence here are the best 10 Salesforce Software Development companies in the USA that provide comprehensive services, industry expertise and software products to their clients.
In today's fiercely competitive global arena, differentiating oneself from competitors presents an escalating challenge for businesses. Amidst the overflow of brands and advertisements, nurturing a robust consumer relationship is imperative. The solution is straightforward: Direct investments into customer experience! And Salesforce is the perfect way to achieve that.
Emerging as the unanimous forefront of Customer Relationship Management (CRM) platforms worldwide, Salesforce wields a diversified repertoire of products and professional services. It has emerged as an indispensable arsenal to organize the customer database. However, its transformative potential extends beyond this scope. Salesforce seamlessly connects every aspect of your business, increasing operational effectiveness. It helps you uncover, filter, and efficiently handle premium leads, powering your growth path.
In the search for Salesforce solutions, it is often faced with the challenge of understanding the specifics of each consulting unit. Careful investigation is needed at this point. To speed up this discovery, we've researched diligently! Based on service offerings, workforce strength, and field proficiency, we unveil the top 10 Salesforce software development companies in the USA that are ready to propel your business with profitability.
Top 10 Salesforce Software Development & Consultancy Companies in San Diego USA
#1 . Quest Global Technologies
Address:- 3945 Grandview vista street, cumming georgia 30028
Phone :- +1 (276) 477-4551
Since the inception of Salesforce in 1999, several companies have established their identity in this giant tech world but the fast pacing emergence of Quest Global Technologies is unparalleled. Holding its position at 9th rank among the top Salesforce Software Development companies in the USA, it is providing innovative and customized solutions to clients so that they can amplify their ROI.
A reliable software development company Quest GLT is gaining ground in diverse service fields like Application development for emerging technologies, blockchain technology, Tailored Web Aaplication, Automation, Testing & QA, ERP/CRM services and Robotics & Automation solutions.
Developing full-fledged business-based software solutions for clients and implementing them is Quest GLT's focus area as one of the leading names in the Salesforce domain. We assist business organizations in establishing a connection between sales and marketing with the right business CRM tools which further helps in winning the customers.
#2 .Ascendix Technologies
Address: 12222 Merit Dr Suite 1760, Dallas, TX 75251
Phone: (972) 889-8090
A certified app development company Ascendix Technologies was founded in 1996 but initiated providing services of Salesforce Development in 2015. Offerings of Ascendix Technologies have a stretched range including Salesforce CRM customization, integration with third-party tools and mobile app development.
Apart from it, Ascendix technologies hold proficiency in code review, marketing cloud, sales cloud and revenue etc. Clients can take advantage of customer support services in both languages- English and Portuguese.
Why do people prefer the Salesforce Development services of Ascendix Technologies?
Ascendix Technologies have specialization in diverse fields like real estate, legal services, capital markets, banking, investments and transports etc.
A well-structured working and pricing model of the company tempts the clients.
Depth info about the Salesforce development and offering value-added solutions to the client's organization.
#3 .Acutedge
Address: 5 Great Valley Pkwy #210, Malvern, PA 19355
Phone: (484) 846-6256
With an AppExchange rating of 5/5, Acutedge is widely recognized as one of the best Salesforce developing companies in the USA. The team uses Visualforce, Apex and Force.Co for the no profitable organizations. Since 2007 it is leading the path of several known business organizations. The customer support language of Acutedge is English.
Why clients found themselves inclined towards Acutedge?
A quick and detailed response to every valuable client through Salesforce Customer Support services.
Help clients in meeting expectations through final products or outcomes that they envisioned.
The infrastructure of Acutedge develops the best intelligence apps.
# 4. IT Edge CRM
Address: 1157 Phoenixville Pike # 102, West Chester, PA 19380
Phone: (610) 431-7500
The valuable assistance of IT Edge CRM is quite beneficial for sales, service and community clouds for engineering constructions, real estate, professional services, manufacturing and higher education fields.
Serving since 1989, IT Edge CRM provides customized Salesforce development services by making the best utilization of Aura, Visualforce, Lightning web components, Apex and other web tools.
Why you should choose IT Edge CRM from a variety of organizations?
An experienced team of salesforce experts is able in closing the projects on time and supporting the organization in the leg up for competition.
Detailed analysis and excellent upfront job for scoping the projects.
It gives an accurate estimation of time and money before assigning the project to its skilled team.
#5 Veltig
Address: Dublin, Dublin, Ireland
Phone: 0000000
Veltig is known for its uniquely designed digital transformation services, custom development and application development for each particular business group or individual.
Through the customization of Sales and CPQ cloud, it primarily focuses on automotive, transport, education, hospitality, energy, travel and manufacturing industries.
Veltig E Trickler and Veltig news of the day are two Appexchange service features of Veltig that are excelling businesses by drip campaign management and dynamic publishing of news on the homepage.
What do customers find unique in the Salesforce Software development services of Veltig?
Implementing all possible salesforce solutions for the clients.
Fast pace working in communication and implementation of solutions.
A thorough assessment of projects and demands of clients before initiating the process.
Millsapps, Ballinger & Associates popularly known as MB&A has a plethora of task proficiencies like native iOS, Android apps and Twilio integrations. The software solutions of MB&A pave the way for Public Housing, Remote video inspection and Asset & Inventory management.
AppExchange service features of MB&A are,
ExAm, it is a learning management tool.
ExAm, an app for inspection, audit and data collection.
ExAm Tracker, useful for tracking, measuring and prioritizing.
ExAm Asset, clients use it for managing their physical assets and inventories.
ExAm connect, the best option for data collection.
What is specific about MB&A for the clients?
Patiently helps companies or organizations in understanding the software solutions of MB&A.
Easy to access customer service in comprehensive English language.
Enabling them to best utilize the MB&A platform.
#6 .DemandBlue
Address: 5 Corporate Park #140, Irvine, CA 92606
Phone: (909) 402-3453
With a team of more than 160 employees, DemandBlue is relentlessly offering a range of Salesforce software development solutions since 2018. The client's requirement regarding custom application development is fulfilled by using Apex, Visual forces and Lightning web components.
The focus area of DemandBlue company is the customization of Sales, service and marketing clouds in engineering, tech, healthcare, real estate, construction, manufacturing and other professional sectors.
Currently available AppExchange apps are,
TFS integration that works for salesforce integration.
DemandBlue Bug Track is a bug-tracking app that sends medical records for timelines and chronology.
Appointment scheduler helps in scheduling meetings for businesses.
What features attract the clients while choosing DemandBlue salesforce development company?
A customer-friendly and well-informed company in the field of Salesforce development.
Flexible and scalable value-adding solutions for businesses through the on-demand resource model feature.
Enhance the level of data integrity and efficiency by offering the right software solutions.
#7 Rainmaker
Address: 3104 N Armenia Ave, Tampa, FL 33607
Phone: (888) 293-0972
Rainmaker is delivering valuable services like custom cloud applications, mobile applications and integration tools in diverse fields such as government organizations, media and communication, non-profit organization, information and technology and other professional services.
Through its guidance and services, Rainmaker assists in streamlining the Sales cloud, analytics and CPQ.
LexIdeas and GrowCommerce Renewals Integrations are two AppExchange apps of Rainmaker that help in managing the ideas, consolidation and management for targeted SMBs respectively.
How does Rainmaker make its clients feel special regarding salesforce development services?
Flexibility in services and time allocations.
Extensive information and a better understanding of client's requirements and then offering recommendations for completing the objectives.
Smoothly adopts the updated business environment with fresh enthusiasm, patience and expertise.
#8 Peergenics
Phone: (267) 551-2939
With an AppExchange rating of 4.9 out of 5, Peergenics poses specialization in field services, sales cloud, service cloud, marketing cloud, community cloud, Pardot and CPQ.
Its managed development services are quite beneficial in the most familiar fields like energy & utility, life science verticals, manufacturing, financial services, healthcare and construction.
The support system of Peergenics is available in the English language for customers.
What one can like the most about Peergenics?
A well-organized structure of working and pricing in the Salesforce development domain.
A friendly interface for users to work with them.
Meeting the demands and expectations of clients is the key feature of Peergenics.
# 9.CloudMyBiz
Address: 15303 Ventura Blvd, Sherman Oaks, CA 91403
Phone: (877) 703-4488
Founded in the year 2012, CloudMyBiz serves its clients efficiently with the development of customized Salesforce-based Software, custom configuration in finance, integrated solutions, manufacture and insurance etc. The customer support services of CloudMyBiz are available in the English language.
Why do customers compliment the Salesforce Development services of CloudMyBiz?
Extensive knowledge of Salesforce development and its best integration with business functions.
Assessing the precise requirement of clients and serving them with tailored solutions.
Fully controlled project execution by the expert team.
#10 .Appluent Business Solutions
Address: 1288 Valley Forge Rd STE 51, Phoenixville, PA 19460
Phone: (484) 920-3741
One of the top-rated Salesforce Development companies in the USA, Appluent Business Solutions is helping several clients in excelling their business by providing custom development services and cloud customization in Sales, service, Experience, CPQ and Pardot.
The salesforce software services of Appluent Business solutions primarily focus on the manufacturing field and high-tech professional services.
FilePulse and UserPulse are two AppExchange apps of Appluent Business Solutions that help in the management of contacts and user metadata respectively.
Why prioritize Appluent Business Solutions for salesforce software services?
Make the salesforce business environment project-centric and align it with the client's business model.
The experts communicate with the clients while the project is in process.
Best at understanding the demands and expectations and satisfying the clients with robust solutions.
Along with providing customized solutions to clients or business groups, several companies act as Salesforce Consultancies in the field of Salesforce software development. Their valuable recommendations also belong to this field.
Salesforce Development & Consulting Companies in USA are the top 10 companies when it comes to developing and consulting services on the Salesforce platform. These companies offer a wide range of services such as custom software development, cloud-based solutions, integrating systems, analytics, business intelligence and more. All these services are provided with exceptional customer service, technical support and strategic advice. You can trust them for accurate results and reliable information about your Salesforce projects.
FAQ..
1. Who is the best Salesforce developer in san diego?
Answer :- Finding the best Salesforce developer depends on your specific needs. If you are looking for someone who can build custom applications, you might want to look for a person with a strong technical background and extensive development experience. On the other hand, if you need someone to scale an existing application, then you should focus on finding someone who has a solid understanding of existing Salesforce solutions.
2. Which country is good for Salesforce developer?
Answer :-With ample employment opportunities and cutting-edge technology, the United States is an excellent choice for Salesforce developers. India is also a great option due to its high number of tech jobs available and competitive salaries. Australia, Canada, the United Kingdom, San Diego, and Singapore have all seen massive growth in the Salesforce development industry with plenty of jobs available. So whichever country you choose, you are sure to find ample job opportunities as a Salesforce developer.
3 Which platform is called Salesforce Platform?
Answer :- The Salesforce platform previously known as Force.com, was developed with the prime focus of designing cloud-based software for connecting consumers with businesses in a seamless order. Acting as a Software as a service (SaaS), Salesforce is a multi-tenant architecture that includes API Integration, configuration, scalability, free capacity, low-cost ownership, platform support and much more that a business needs for flourishing in all possible directions.
4. What software languages does Salesforce use?
Answer :- This cloud-based customer relationship management (CRM) platform, Salesforce requires in-depth knowledge of some specific software languages. Developers can broaden their skills in the Salesforce domain by learning Apex, JavaScript, Visual Force, Java and Lightening Web Components etc. Though every salesforce software language has some pros and cons, selection of a software language for Salesforce platform requires the information regarding main idea or goal or business and the specific needs of the consumers which are linked with those Salesforce platforms.
5.What does a Salesforce consultant do?
Answer :- Designing, building, delivering, and maintaining our Salesforce ecosystem will require the consultant's expertise, problem-solving ability, and creative flair. Additionally, the consultant will assist in developing business requirements, specifications, process flows, Software Develop, configuration and Application design, as well as Software testing and deployment.