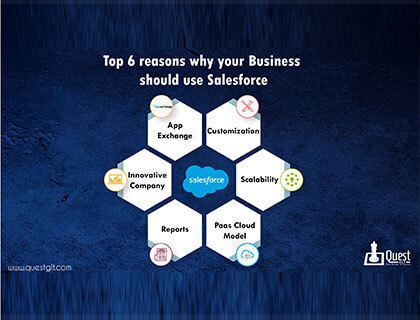 If you are exploring the CRM industry for your business, you will find a plenty of CRMs, with almost all of them offering the same base functionalities, aiming towards enhancing your relationship with customers and effective management of them. So, what is different in Salesforce CRM that makes it the leader of all CRM in market? Why would a business organization pay high price for Salesforce, when there are other CRM vendors with nearly half cost?

Salesforce was the first to launch cloud based CRM and is the leader in the cloud CRM world ever since. The ease of use and level of functionality were the primary factors for them. If you will have a look at the salesforce analytics, you would come across the following advantages of using it as a CRM:
Customization: The major area where Salesforce beats every other CRM is its ability to be highly customizable. While most of the requirements can be handled through configuration, sometimes there is a need to go beyond the existing functionalities to accurately fulfil your business needs. Some percentage of salesforce customization can be done without technical expertise (i.e. Apex and Visualforce) by the use of custom fields, objects and third party integration apps.

Scalability: When you are implementing a CRM in your organization, you are not simply making decision for just today, but the solution should be scalable enough to meet all your business needs for years. This, Salesforce is highly customizable and scalable which can adapt all future specifications of any business.

Reports: Salesforce users can create their own reports to monitor the Accounts they haven't worked on for a while. Opportunities in the pipeline, products sold by them, task performed and completed. Report charts and dashboards will help them measuring their own performance.

AppExchange: Salesforce introduced the salesforce store named as AppExchange as it understands that there are many other applications which can be used with salesforce to enhance the customer engagement. AppExchage is a marketplace similar to App store and play store with 2948 apps which includes salesforce integration with third party softwares like Quickbooks, Mailchimp, etc.

Most Innovative Company: Salesforce ranks first in the 17th annual list of top innovative companies of The World's Most Innovative Companies. The main reason for it being on top is its adoption to every latest technology whether its Artificial Intelligence, IoT and even Blockchain. Hence, the users don't have to migrate every time to a new CRM for adopting the latest technologies and its advantages.

Paas Model on Cloud: Salesforce not just launched the first cloud based CRM but also has established a Paas cloud based model along with it i.e. Force.com to provide solutions for complex real world business challenge. This Paas model helps users go beyond the out of box functionality provided by Salesforce.