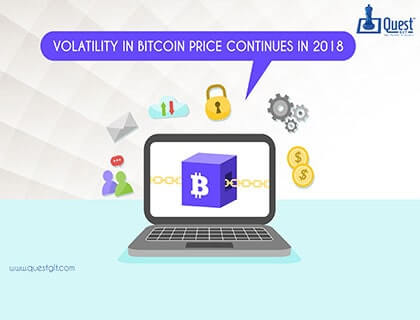 The inconsistency in the price of bitcoin is known to all and thus Bitcoin investors are all set to have a roller coaster ride this year. There are various reasons which make clear that there can be unpredictable fluctuations in Bitcoin value and few of them are listed below:
Hackable stories of bitcoin
If you have made investments in this crypto-world then it is also evident that you can be hacked soon. Many users due to poor usage of their private keys lose their money on daily basis. Their ignorant behavior makes them lose coins in their hot wallet. We cannot forget the biggest hacks of MTGOX in June 2011 and 2014 after which the company closed stating bankruptcy and a loss of $350 million. Similarly Bitfloor was closed after it lost 24000 BTC in September 2012; however, it re-funded its users. Then there is BitStamp, Bitfinix, and Polonix who were targeted by the hackers and thus show how there is theft in digital currency trading.
This month Coinrail, a South Korean firm faced a big hack after which there was seen decrement of 7% in the Bitcoin price. It is one of the largest cryptocurrency trading hub and they made a statement that the hack did not involve well-known currencies such as bitcoin. Also on 27, Jan 2018 Coincheck declared that a hacker had stolen about 58 billion yen ($532 million).
While Bitcoin itself is very secure and completely unhackable but the ecosystem it has around itself causes some serious threat. All these hacks have a major impact on the fluctuations in the Bitcoin price and thus hacking is a big concern.
Technical issues
Technical issues like bugs can also become a huge threat to the safety of bitcoins and can lose the trust of the investors. A significant example of this incidence is when Author Alex Hernstated that about $300 million which were invested in Ether were trapped in a number of multi-signature wallets and they were accidentally destroyed by a user in a series of bugs. This money could not be recovered later on. Similar to this many cases are evident and still needs to be looked upon as a serious problem.
Declaration of Google in March 2018 on its financial advertising policy
Google in March 2018 declared that Cryptocurrencies and related content such as ICOs, crypto-wallets, etc. won't be promoted through Google ads. Facebook had already banned these in January after which there was seen a decline of 10-20% in the crypto-market which included all the big currencies such as Bitcoin, Ethereum, Bitcoin cash, Ripple, Litecoin, etc.
Bitcoin is still not a mainstream
Investors are facing a problem as the markets are still searching for the actual use cases for the cryptocurrencies. Also, many countries still hold back in terms of declaring bitcoins legal. Beyond these, there still persists a conception due to the anonymity of bitcoin that it attracts a lot of hackers. A recent report by the University of Sydney revealed that 25% of all bitcoin users and 44% of all bitcoin transactions in the crypto-sphere were associated with criminal activities raising questions among bureaucracy to declare it legal. However, the growth in new applications related to blockchain and real-world use cases that are being introduced to the system can pave way for some good results.
All the above factors make it clear that fluctuations will constantly occur if no solutions are provided in the faith of Cryptocurrency security. So, to all the traders and investors be ready to face some major rides in the Bitcoin stock value this year.