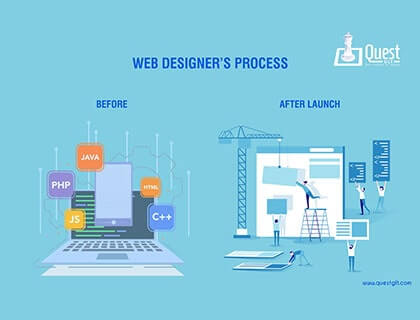 Diving into the depth of the designing and development of website taught us the procedure of designing layout and mark up of the website. Though, numerous things are to be kept in mind during and after the launch of a website. Just before launching, be cautious about all the links and media of the website. Test your all pages thoroughly using your file manager as a guide and verify each and everything of your website. Moreover, launching involves that the website is now ready for public viewing. Therefore, its transfer to the production Web server is very important. Since different servers have different web features which can make the website response in a completely alternative manner. Further polishing and deep testing are done on the production web server to check each response of the website.
Cross-checking the website on different browsers such as Chrome, Firefox and Internet Explorer will give us a relief that it won't stuck anywhere. After this post-launch comes into the picture with the business. It's the developer's duty to ensure that the client knows about all the instructions and training that are required further. Leaving a project closed door is not at all professional, it's the work of the developer to let them know about the future maintenance charges of the website and see to the ongoing support as well as standby for any future needs if possible.
After the working of the website and providing assurance to the client's hand off the website to the client with all valid documentation and source files completing the project neatly. Many clients are not clear about the idea of their project as what they want, therefore after the making of the website, it's a designer's duty to let them know that for which query they must come up to them i.e. clarifying them with the difference of design and development and training them on their suitable charges to get familiar with the design of the website. This will help the designer to grow in his career as well as the client will be satisfied thus leading to a more clear and optimistic approach towards his business.