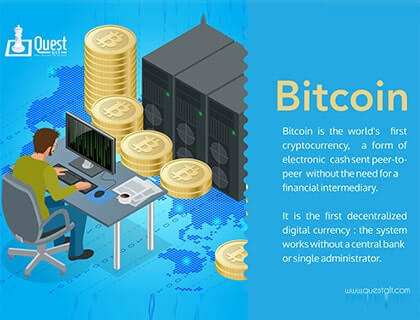 INTRODUCTION: BITCOIN
BITCOIN is one of the world largest CRYPTOCURRENCY, where the VIRTUAL TRANSACTION occurs. BITCOIN is the first decentralized currency which works on the PRINCIPLE of a virtual transaction without the CENTRALIZED BANKS or SINGLE ADMINISTRATOR.
STOCK MARKET: PRINCIPLE ON WHICH BITCOIN WORKS
It works on the PRINCIPLE of STOCK MARKET where people INVEST their MONEY in purchasing the SHARES. The value of each SHARE depreciates or inflates accordingly depending upon the WORTH of the SHARE in STOCK MARKET. STOCK MARKET moves on the Probability ratio of 1/2. People either gains PROFIT or incurs heavy LOSS.
POLICIES IN INDIA: BITCOIN INVESTMENT
Legal Notice has been issued by the Central Govt. RESERVE BANK OF INDIA ( R.B.I), w.e.f 5th April 2018 i.e. to stop using the VIRTUAL CRYPTOCURRENCY as the MEDIUM OF EXCHANGE. RESERVE BANK OF INDIA gave the 3 – MONTHS ultimatum to all the BANKS involving the digital transactions.
REPERCUSSIONS IN INDIA: BITCOIN INVESTMENT
1. People INVEST huge money in the INTERNATIONAL BANKS. All the INDIAN CURRENCY is invested in INTERNATIONAL BANKS in form of BITCOINS, which actually accounts for debiting of BLACK MONEY. It is the major reason for the low G.D.P(GOODS AND DOMESTIC PRODUCTS ) rates in INDIA. The MONEY invested in OVERSEAS Bank does not account for the calculation of the G.D.P of INDIA.
2. Different policies makers of different countries are making it difficult for the people to withdraw their MONEY back in the form of BITCOIN. Due to which people are panicked and selling their BITCOINS at very cheap prices. This amounts for the substantial loss of the wealth of INDIA.
UPCOMING YEARS OF THE 21st CENTURY: BITCOIN
1. Reliability of BITCOIN in the coming years is zero. The main reason for the same is that people lack the awareness of CRYPTOCURRENCIES and BITCOIN. They invest their hard earned money without taking the consideration of risk factor involved in it. This might lead to the discontinuation of BITCOIN in the GLOBAL ECONOMY.
2. RISK FACTOR is high when it comes to the INVESTMENT of MONEY in BITCOIN.