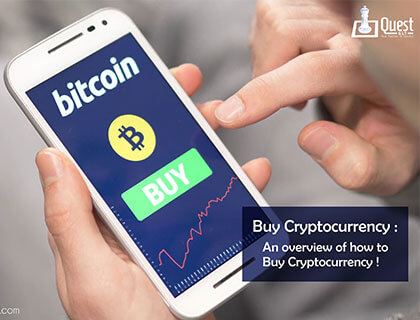 With an exponential rise in the popularity, cryptocurrency has come a long way setting up massive demand amongst technology executives, Wall Street pros to novice speculators. Amidst the popularity, cryptocurrencies have emerged out as a trendsetter, drawing the mass percent of the audience into this 'invest through an exchange' system. Concretely, this drift has made business-people indulge more into the crypto-exchange commodity with investing, exchanging and depositing grids of purchases.
Crypto-beginners often dwell on how to get into crypto-exchange practice? , whence to buy cryptos? what methods to regulate when making a purchase?!
So, here is an article standardized for achieving a better understanding of crypto-purchase.In this article, my primary goal is to explain how to buy cryptocurrencies across multiple exchanges and a hardware wallet. With that, here's what you must know to get started.
BUYING CRYPTOCURRENCY WITH COINBASE
Before continuing with the crypto-purchase process through coinbase platform, let's first discover- what is coinbase platform and why is it so popularly in use by investors?!
COINBASE:
By definition, Coinbase is an online platform specifically strived for buying, selling, transferring and depositing virtual currency.
Typically, the platform enables easy conversion of local currency into or out of Bitcoin, making it secure and preferably reliable to an extent to be known as the world's largest Bitcoin broker.
Since it is known to be the most trusted digital currency, so it is widely used by traders uniformly for purchases and trades with notably exceptional peculiarities like secure storage, protection by insurance & best industry practices.
GETTING STARTED WITH COINBASE
Step1: Like any other platform typically online shopping accounts or social media applications, coinbase platform necessitates account creation on its website – coinbase.com or phone application via downloading an app on the phone.
Step2: After setting up an account with Email and password, you get into the platform where it greets with terms and conditions required to accept before proceeding to the next step. Also, for better security, you can enable 2-Factor authentication on your account to safeguard your money and transaction details.
Step 3: After logging into the website/ App, a chart sheet appears on the screen displaying all the details concerning growth and downfall of cryptocurrencies with hourly, daily, weekly and the monthly time frame in a graphical representation.
Now, to make a purchase forthwith, click on the "Buy" button for the app or tap over to the Buy/Sell tab on the website.
Step 4: Next step is to choose a payment method for investment.
With trader's preferences or choice of whether to make a small investment or a large purchase, the method may vary principally. For instance of small grants, connect to a debit or credit card, else append a direct line to the bank account for a substantial purchase.
Step 5: Post the connect, hit the "buy" button again to proceed with the desired cryptocurrency that you prefer to buy and enter the requisite amount of money to spend in U.S. Dollars. Coinbase will convert the money into cryptocurrency you chose along with a small fee.
Step 6: Finally, after all the details are put together and framed accordingly, confirm the transaction by hitting the "Buy" button.In case of a first transaction, crypto-trader (beginner) may receive a call from the specified bank (synced with coinbase account) to verify the transaction process.
BUYING CRYPTOCURRENCY WITHOUT COINBASE
Certainly, coinbase supports only a few cryptocurrencies like Bitcoin, Ethereum, and Litecoin for trading and transactional purpose. For other small currencies like stellar and ripple- Kareken is one popular option used extensively by small cryptocurrencies for buying, selling and other purchasing constancies.
Before ensuing into functionality and operability of Kraken, let us first understand What defines Kraken?!
With annotation, Kraken is a US-based cryptocurrency exchange operating in Canada, the EU, and Japan- just like coinbase it is a substitute for smaller currencies to regulate constantly into the financial market through its platform fabrication. Also, it is known to be the most trusted platform by hundreds of thousands of traders.
OPERABILITY: Using Kraken can be a little complex than coinbase as account creation and formulation operates on the website and there is no app for this purpose.
GETTING STARTED WITH KRAKEN
Step 1: Creating an account on Kraken is same as coinbase. Vist the link https://www.kraken.com/signup and set up to verify the account.
Step 2: Activate Kraken account by copying and pasting the activation key on Kraken's account activation page. The activation key is provided by the email to validate the account-Account > Get Verified
Step 3: Kraken requires customer verification that involves 2 Tier and 3 Tier information. To make a bank deposit, customer needs to enroll name, phone number, address as a part of 2 Tier verification whereas in case of 3-Tier verification a valid government-issued photo ID and proof of residence documentation are required.
Step 4: Post verification process, deposit funds to your account through Accounts >Funding > Deposit.
Step 5: Next step is to place an order by going to Account > Trade > New Order. While placing an order make sure to select the currency-pair wisely, for example: If you wish to buy stellar (XLM)
and sell USD then make a currency pair as XLM/USD which signifies Buy-XLM and sell-USD and click buy.
Likewise, if you choose to sell the same currency pair click sell.
Step 6: To buy a currency pair, select the currencies and click on the 'Simple' interface and place the desired order by hitting on the green button to confirm the order.
Amidst all the chaos that cryptocurrencies have uprisen, nobody would have ever envisioned cryptocurrencies will change the dynamics of money exchange. With easy buying, selling, transfer, and deposit, the entire process of trading has evolved for drastically and for better with discerning security!