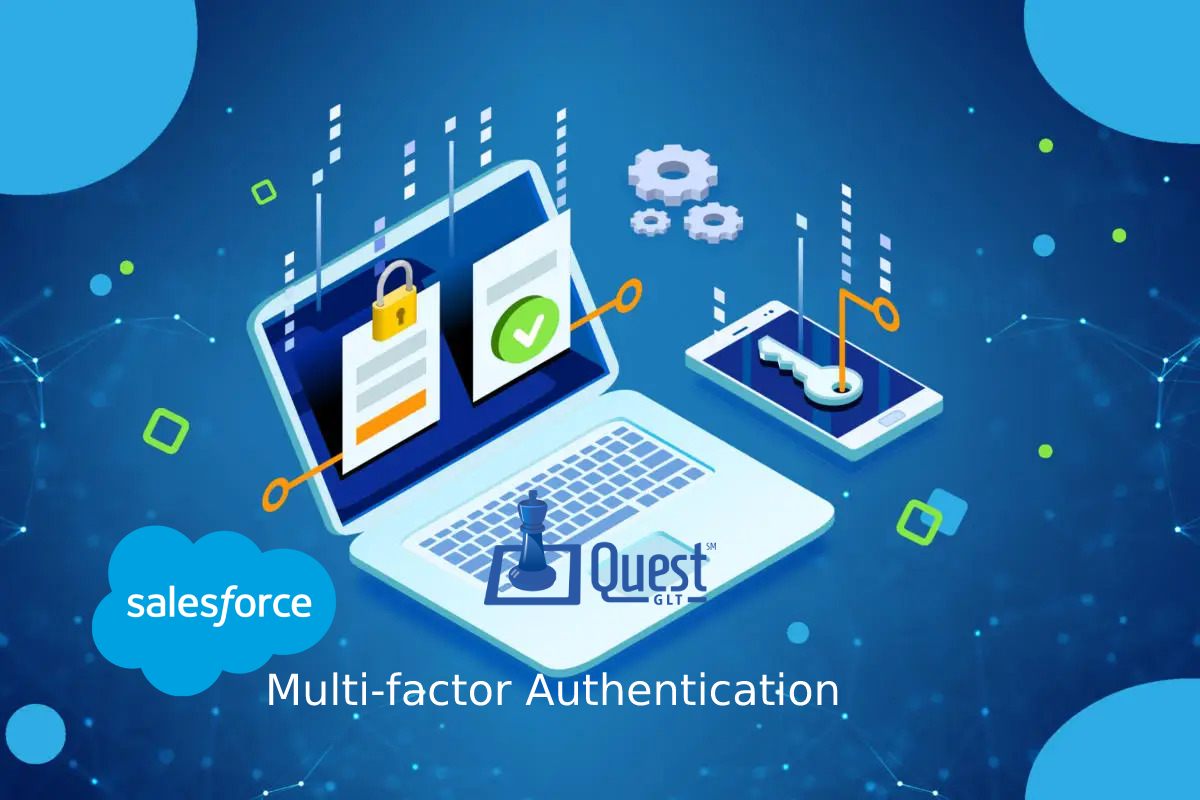 A process that compels the users to verify his/her identity more than twice before logging into their Salesforce account that ensures the security of their Salesforce account is - Multi-factor Authentication (MFA). Now every user is bound to go through the Salesforce-approved Multi-factor Authentication method, especially during the use of those Salesforce tools which include the device activation.
This feature secures the Salesforce tool from common threats like phishing attacks and the takeover of any user's account etc. Salesforce users can secure their account through the free availability of MFA, for every Salesforce tool that is designed on this specific Salesforce platform.
What are the ways of implementing this safety feature "MFA"?
The bulk of important data available on the Salesforce platform requires a robust security system to prevent any kind of cyber attack or data theft. Here are three methods through which a company can implement Multi-factor Authentication with the help of experts.
Salesforce Authenticator App - a free and reliable security option.
Built-in Authenticator - User-friendly security feature
Security keys - verification-based tokens.
A quick view of their implementation method and the quality of safety they provide to the Salesforce accounts.
Salesforce Authenticator App -
Salesforce Authenticator App is a free resource for Salesforce users. They can access it easily and download it on their smartphones. The installation of this Salesforce security (MFA) feature requires less than five minutes.
Here is the stepwise method of connecting your Salesforce account with the Salesforce Authenticator App.
First, you need to log into your Salesforce account and then reach the personal settings. The option of personal setting will be available only after clicking on your profile image and then settings.

Now click on the advanced user details and then go on the App registration option >Salesforce authenticator> connect option.
The mobile device will show the Salesforce authenticator app, where you can click on the Add an Account option.
A "two-word phrase" will appear on your app which you should fill on the salesforce browser window.
Now your mobile phone device will show you every detail of the Salesforce account on it and you can connect or sync the process by clicking on the connect option available on it.
Google Authenticator and Microsoft Authenticator are also the best way to utilize Salesforce Multi-factor authentication. Though the mobile app solution is quite easy to access for many Salesforce users, some other options are also available for Salesforce MFA.
Built-in authentication -
The built-in authenticator can puzzle the Salesforce users if they log into their Salesforce accounts through several different devices. You need to register on the built-in authenticator on every device through which you are logging into the account.
Built-in authenticators are available on the users' mobile app in I'm the form of Face recognition, touch ID and PIN etc that you can set up on the operating systems. It holds the tag of best security or MFA tool for Salesforce users and is available for - Datorama, Marketing Cloud, Heroku and Mulesoft Anypoint Platform etc.
Security keys -
A quite cool and easy method of securing your Salesforce account on the devices is using verification-based tokens that are also known as Security keys. Though they are paid options, it is worth paying for them as they require no installation and any code for the manual entry. Some most preferable security keys are - Yubikey by Yubico and Titan's security key by the Google platform. Those who use security keys in Multi-factor authentication must provide a sufficient amount of time to the users before launching so that they can procure it. Security keys are also a good option to keep them as an extra or reserve inventory.
Why do the teams need to be prepared for the Salesforce Multi-factor Authentication?
Implementation of the Salesforce Multi-factor authentication and having detailed communication with the clients or users about it is quite beneficial or a mandatory thing in today's time. Not following the Salesforce MFA guidelines is a breach of the End User License Agreement. You can not secure your bulk data that has significance in serving the people without enabling Salesforce Multifactor Authentication for your users.
Communication about Salesforce MFA also plays a pivotal role as you can not spend your entire day with the same queries from several users that, "they are unable to log into their Salesforce account." A smooth way of conveying information regarding Salesforce MFA is by describing its advantages and the less time taking implementation process. Many of the breaches and cyber attacks can come to an end if the users require more than a username and password for the authentication. Salesforce Service Multifactor authentication is simply a potential way to prevent data breaches and misuse of valuable data by some ill-intended people or hackers.
Which Salesforce Multifactor- Authentication will be right for you?
Based on the number of users of your Salesforce platform you can choose the right Salesforce MFA. But if you want to provide a convenient way of securing the Salesforce data to your users or clients, choose the Salesforce authenticator app. It takes only 3-5 minute process time for the verification of users while logging into the Salesforce account and another advantage is, the Salesforce authenticator app is easily accessible on smartphones.
In case the cyber attackers choose to destroy or misuse the data of your users, the users will receive a notification on their device and thus they can deny access to their Salesforce account by an unknown person.
Wrap Up
Knowing the advantages and importance of Salesforce MFA and making users aware of it is the need of the hour when we are frequently listening to incidents of data breaches. You can create a forum or a chatter group where skilled and professional team members can provide the answers to users' queries. You can also run a week-long email campaign to spread awareness among Salesforce users about the verification method through Salesforce Multifactor authentication (MFA). For such purposes, your support team should always be ready to guide the users.
Visit Also:- Top 10 Salesforce Software Development companies in the USA