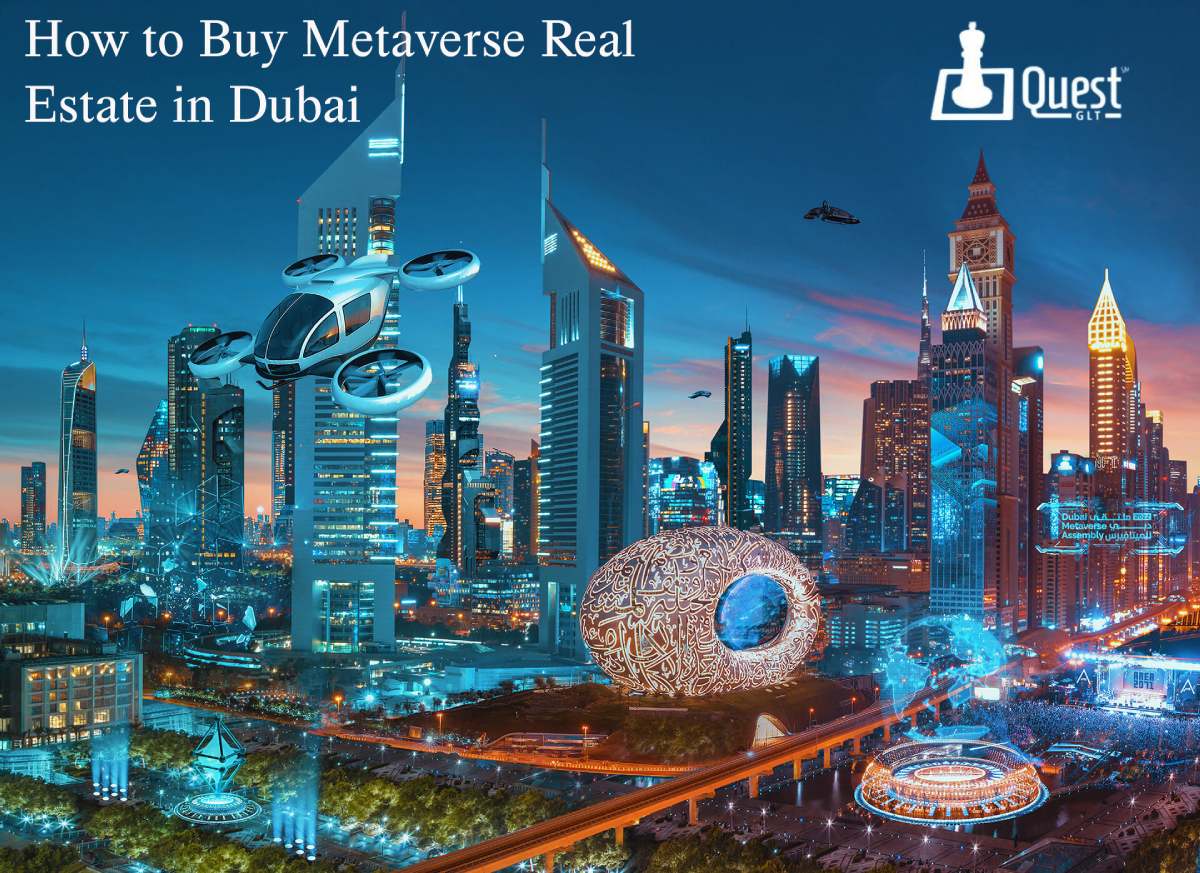 Owning land in the virtual world intrigues too many investors these days as they find it quite convenient to buy, sell, rent or design a virtual property while sitting on their couch. Metaverse Real Estate services are turning these dreams into reality for an investor or other business person.
How to buy Metaverse Real Estate in Dubai, UAE?
But before making a final call for buying the Metaverse Real Estate in Dubai, UAE you need to be aware of the right steps through which you can step into this thriving VR-based business or investment.
What are the steps to buy a Metaverse Real Estate in Dubai, UAE?
Easy digital access has made several things smooth and less complex for people. Similarly buying, selling, renting and owning land in the Metaverse is free from diverse cumbersome processes like in real-world property buying. But it does not mean that an investor can plan for such an investment immediately, He/She needs to understand the process thoroughly before finalizing the deal of Buying Real Estate in Dubai, UAE.
Here is the way to get started.
1. A device well connected to the internet -
This is a very basic demand of accessing the Metaverse for buying real estate in Dubai, UAE. You must have a mobile/laptop/a computer / any other smart device for initiating the process. The device should be connected with a smoothly working internet connection during the entire process of Metaverse land purchasing or any other business purpose in the virtual world.
2. Choose one of the best digital wallets -
Metaverse is a cryptocurrency-centric investment domain where online payments through PayPal or any other medium are not allowed. All the companies who provide facilities for business and investment in the Metaverse allot unique crypto and wallet for dealing purposes.
Here are some of the best digital wallets which you can utilize for buying real estate in Dubai, UAE.
Metamask - Easily available on your mobile applications this digital wallet acts like a browser extension. You can utilize Metamask for several purposes associated with the Metaverse real estates investment like Defi, Web 3D apps and NFTs etc. Millions of users are actively using this open-source software in the Metaverse real estate trading which is also capable of the automatization of account backup.
Coinbase - If you are new to the virtual world - Metaverse, Coinbase is the ideal digital wallet for you as it provides tutorials to new investors. On Coinbase you can take advantage of time-delayed withdrawals. Regular users of Coinbase can collect the crypto rewards and save the NFT and Metaverse tokens.
Enjin - A quite convenient and user-friendly interface of the Enjin digital wallet allows investors to take advantage of new and trending Metaverse & Defi projects. This wallet has gained a unique place in the market of cryptocurrencies by hosting diverse NFT collections.
Alpha Wallet - This completely open-source digital wallet offers a user-friendly interface to investors where they can utilize handy tagging features and other filtering tools. It connects the investors with the NFT marketplace and provides a 12-word security key feature.
These digital wallets will help you in buying real estate in Dubai, UAE and will keep your remaining cryptocurrency secured after the investment.
3. Choose a Metaverse property after thorough research
As it is mentioned above that each virtual land provider organization prefers distinct crypto so before selecting the desired land piece in Metaverse you need to do proper research regarding the virtual land and the crypto that will be utilized in its ownership.
A better option to go through the Metaverse real estate or properties is using third-party sites like NonFungible.com and OpenSea.io etc. This way you can grab a lot of information and details about the virtual land piece in which you are interested and want to buy it.
Another point to keep in mind is, as we all know that owning land in the virtual world of the metaverse is a task full of volatility and risks, you must do proper market research before making a final deal regarding a Real Estate purchase in Dubai, UAE.
4. The method of buying the cryptos for Metaverse real estate purchase
The investor must know about the method of buying cryptocurrency from the most reliable investment websites and applications. These apps and websites include Robinhood, Coinbase, Kraken, Charles Schwab and Webull etc. Every crypto-providing platform is linked with some unique advantages but there are some drawbacks also. Hence you are advised to choose the most familiar crypto service provider for metaverse real estate purchasing.
The purchase of cryptocurrency also depends on the virtual property which you are going to buy. As an example - If an investor wants to purchase virtual land through the SANDBOX, he/she will be bound to buy the SAND which is an Ethereum token.
5. Select a metaverse platform for creating an account -
After finalizing the desired land on the virtual platform of Metaverse and the associated crypto option, you need to create an account on one of the Metaverse platforms. Metaverse provides you with diverse options where you can create an account for investment purposes. Some of the most popular Metaverse platforms are given below.
Illuvium
Decentraland
The Sandbox
Celebrity Atlas
Axie Infinity
Cryptovoxels
Metahero
Here are all the most preferred Metaverse platforms from where you can purchase real estate in Dubai, UAE virtually.
6. Establish a connection between your digital wallet and the payment process -
Linking the crypto wallet of investor with the payment platforms enable them to proceed further in the Metaverse Real Estate purchasing process. Though every digital wallet offers some different ways or methods of connection, you can easily do this with the help of instructions mentioned on the property buying page.
If you are thinking that connecting the digital wallet with the website or platform will be a complex method, you can compare it with a normal payment wallet syncing with your usual shopping website.
7. The very last or final step in this long Metaverse Real Estate purchasing process is clicking on the payment option to buy your desired space in the virtual world.
Thus an investor can buy real estate in Metaverse in Dubai, UAE and utilize this virtual space for several business purposes, entertainment, education, gaming and travelling while sitting on the couch of your home.
What risks are associated with Metaverse real estate purchasing and how can you avoid them?
Very different from real-world property purchasing or dealing, metaverse real estate comes with so many risks. Unlike real-world business, this business and investment domain is full of unpredictability and volatility. There is no certain rule for making hefty profits after buying or investing in Metaverse properties.
Here are some major risks or disadvantages of the Metaverse Real Estate investment that you must know before making a final call of ownership.
Being a new zone for a major chunk of the population, the Metaverse is a limited investment area for a few investors or business organizations. As we all know a great inclusion of people makes a business or industry beneficial, hence there are no certain chances that a large number of people will know about your investment in the metaverse.
Another impacting factor in this virtual business world is, the situation of a cryptocurrency affects the entire worth of your metaverse real estate. If the value of linked crypto depreciates, it is obvious that your virtual property in the metaverse experiences a downfall regarding its value.
Organizing any of the events in this virtual space is far more costlier than hosting a real-world event. Another drawback is, you can not be assured of the number of people who are going to join your virtual event. Hence there is a risk in organizing gaming sessions, business meetings and other entertaining meet-ups on the metaverse real estate platforms.
Though there are several risks linked with investment in Virtual property buying, we will advise you to not feel discouraged. Several people are gradually inclining toward VR experiences and showing their keen interest in exploring the Metaverse Platforms. Once the knowledge and right information reach the tech-prone people, there will be a high chance of booming this buzzing virtual world.
When an investor picks the right property and utilizes it in providing intriguing experiences to people, there is no doubt that he/she will generate neat profits out of this investment.
As an example - If a virtual land piece is purchased and then transformed into an entertainment zone by the investor and the team of developers, one can make this place accessible only after paying a certain ticket amount. The audience will join the virtual space for fun & entertainment purpose and will pay for it.
Wrap Up -
As a final word, you are advised to make yourself prepared for the big losses if you want to achieve bigger profits in Metaverse. On one hand, your tiny investment can generate big outcomes while on the other hand, you can lose everything without making a single penny from the Metaverse platforms.
Visit Also:- Top 10 Metaverse Development Companies in UAE
FAQ :-
1. How to buy real estate in the Metaverse in Dubai?
Answer:- With the ever-growing popularity of virtual reality and the Metaverse, buying real estate in this space has become a popular option. Thanks to our platform, you can now search for virtual properties and filter by price, size, or other criteria. We also provide an easy-to-understand guide for how to buy real estate in the Metaverse so that you can get started right away. Plus, if you need any help along the way, our customer support team is always available to assist you.