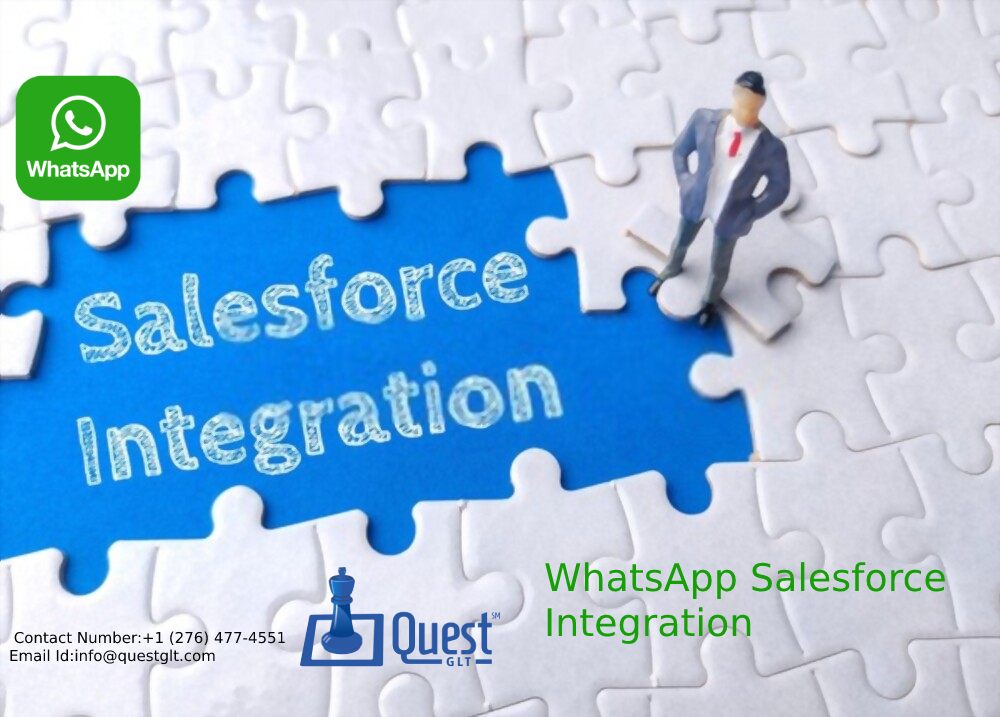 Every business organization requires to establish proactive communication with its clients and for that purpose, no other platform is better than WhatsApp which can easily integrate with the world's most popular CRM system - Salesforce.
WhatsApp Salesforce Integration:
Over two billion users across 180 countries create a robust customer base for the Salesforce system. Apart from convenient connectivity, WhatsApp provides several dedicated business applications and enterprise solutions for both small and large businesses in sales and customer support.
Such inevitable benefits make WhatsApp Salesforce integration a widely adopted system for better growth in the business.
What are the essentials for WhatsApp salesforce integration?
In this integration, Salesforce as well as the WhatsApp require some permissions which are mentioned below.
For Salesforce -
Having a Salesforce account
Experience with Lightning and Salesforce Classic
Having chat user license, digital user engagement and service loud.
For WhatsApp -
Having a verified WhatsApp business account and a Facebook business manager
Permission for configuring the messages
Having the permission of the provider for authorizing the WhatsApp Messaging Customize Application
A view setup for seeing the WhatsApp channels
With the help of this permission and requirements, you can integrate WhatsApp with the customer relationship management (CRM) system, Salesforce.
How can you do Salesforce WhatsApp integration? - A stepwise method.
The below-given easy-to-perform steps will guide you regarding the Salesforce WhatsApp Integration for business purposes.
1. Setting the WhatsApp business account on the Facebook business manager - The very first step of this integration is you need to send an email to the address WhatsAppEnablement@salesforce.com and mention "WhatsApp number setup" in the subject. While the body of this email must include the following information.
Salesforce Org ID
Facebook business manager ID
Your name should be attached to the Facebook business manager ID.
Also mention your WhatsApp number, email and another phone number along with your name in the mail.
Along with the brief description of your company, you need to include the logo and URL of the company. The name of your business or company that you want on the WhatsApp platform should also be available there.
2. View the WhatsApp Channel - Now with the help of Lightning Service settings available on Salesforce, you can view your WhatsApp Channel.
3. Enter into Channel - In the next step, you can navigate to the message settings that are available at the service setup. Here with the help of Lightning Experience Settings, enter your WhatsApp Channel.
4. Add new Channels - Now the admin can see all the enabled channels and he/she can add more new channels to it.
5. Add a new WhatsApp Channel - Admin can add a new WhatsApp channel with the help of Lightning setup. An option of " Setup a new channel" will be available there in the setup options.
6. Connect Salesforce with a business account - After turning on WhatsApp, now you need to add Facebook Business Management Account to Salesforce. You are all set to take advantage of WhatsApp customer services for your business.
What are the benefits of Salesforce WhatsApp integration in business?
The unique blend of Salesforce and WhatsApp services due to their separate key features can lessen the intricacies of business and set up an integrated platform that offers a plethora of perks for your specific business. To understand the benefits of this integration in-depth, you must be aware of the business-centric features of both platforms separately.
Salesforce features - This widely adopted CRM tool is repleted with several perks that contribute to the popularity of a business.
The easy setup quality of Salesforce CRM makes your business platform ready to use within a few weeks after deployment.
Unlike other CRM systems, Salesforce does not require complex and time-consuming training of the team or your employees. The straightforward nature of Salesforce is easy to handle for everyone.
Each specific business needs some specialized requirements and Salesforce is adept in fulfilling them through its customization feature. This particular thing makes Salesforce more popular in the business world.
Salesforce provides enough insight into the leads and consumer's experience that further helps in designing the product or service according to the demand. The account planning feature of Salesforce offers a customized experience to your clients.
The smooth connectivity of Salesforce is possible only due to its cloud-based software system. You can access it from remote areas even with your mobile phone.
WhatsApp features - The widely adopted conversation platform, WhatsApp has several business and customer advantages.
The advantage of a team inbox makes it easy for the team leaders to connect with several active users simultaneously.
Generating automated response to your customers through the Chatbot facility on WhatsApp make your business more improved and successful.
The API facility helps businesses in establishing integration with third parties like other CRM and Salesforce. This collects all data on a single dashboard to serve the best customer service.
Taking help of the images, videos and other graphics to represent your services and products in a better way is possible on WhatsApp. You can also use the catalog facility to show the products and services in an organized way.
A large number of active users makes WhatsApp more suitable than any other platform for integration.
Which points should one keep in mind while integrating Salesforce with WhatsApp?
You can consider the below-given points as some limitations while the Salesforce and WhatsApp integration.
Only 250 contacts are allowed for WhatsApp for Facebook Business Manager Account with the approval of WhatsApp.
The limit of a WhatsApp message is 1600 characters you can share with all the contacts.
The images you want to share must support .jpeg, .jpg and .png etc.
The attached file in any message must be only of 5 MB size.
Sharing audio files, stickers and locations are prohibited on a Salesforce WhatsApp-integrated platform.
Only the agent is allowed to see the specific message sent by a consumer.
Quest Global Technologies provide the right guidance to the sales teams of several businesses organization regarding the Salesforce Whatsapp integration and its maximum utilization for enhancing the scope of business.
Visit Also:- salesforce pipeline inspection